#16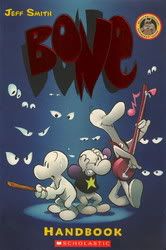 Title
:
Bone Handbook
Series
:
Bone
Author
: Jeff Smith
Copyright
: 2010
Pages
: 123
ISBN
: 9780545211420
Publisher
:
Graphix, an imprint of Scholastic
Author Website
:
www.boneville.com
Twitter
: @Scholastic
Format
: Paperback
Rating
: 3/5 stars
Finished
: 2-14-10
Challenge
: 100 Book 10
From Amazon:
This is the ultimate handbook for every BONE fan! Includes character profiles, a timeline of events, interviews with creator Jeff Smith and colorist Steve Hamaker, a showcase of cover art from the original BONE editions, a behind-the-scenes look at how the Scholastic editions were colorized, and other fun stuff!
The
Bone Handbook
is just what it sounds like, a source book of information concerning Jeff Smith's
Bone
. Printed as a companion to the Graphix/Scholastic reprints of the series, it is written in a slightly juvenile fashion, but that's because the Graphix/Scholastic versions have been marketed towards a younger audience. It still makes for a good refresher on what happens in the series and who the characters are. It's a really quick read, but fun all the same. If you are a fan of the
Bone
series, I'd say you'd probably enjoy this, just as a reminder of what went on in the series. It is a little spoiler-filled, so if you haven't read the series yet, be warned that this will give some of it away.