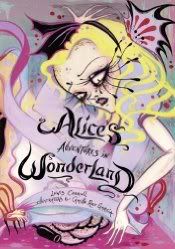 Title
:
Alice's Adventures in Wonderland
Authors
: Lewis Carroll, illustrated by Camille Rose Garcia
Copyright
: 2010
Pages
: 160
ISBN
: 9780061886577
Publisher
:
Collins Design
Artist Website
:
www.camillerosegarcia.com
Twitter
: @camillergarcia
Format
: Hardcover
Rating
: 4/5 stars
From Amazon - About the Artist:
Camille Rose Garcia was born in 1970 in Los Angeles, California, and grew up in the generic suburbs of Orange County, where she visited Disneyland and went to punk shows with the other disenchanted youth of that era. Her paintings of creepy cartoon children living in wasteland fairy tales are critical commentaries on the failures of capitalist utopias, blending nostalgic pop culture references with a satirical slant on modern society. Her work has been displayed internationally and featured in numerous magazines, including Juxtapoz, Rolling Stone, and Modern Painter. In 2007, a retrospective of her work, titled Tragic Kingdom, was on display at the San Jose Museum of Art, accompanied by a catalog of the same name. She has also written and illustrated a children's book, The Magic Bottle. The recipient of the Stars of Design award from the Pacific Design Center, she recently moved to the Pacific Northwest after thirty-eight years in Los Angeles.
OK, I'm not going to be doing a review of
Alice's Adventures in Wonderland
, as I did a rather lengthy one last year (if interested,
click here
), but I do want to talk about the illustrations in this new edition. I'm a sucker for picking up multiple copies of a book that I like if there are new illustrations or something in the book that catches my interest (for instance, this is my third edition of Alice that I own, and I have 6 editions of
A Christmas Carol
- just to change it up a little, I try to read a different edition each time I re-read these).
Of course, with the new Tim Burton film,
Alice in Wonderland
coming out in just a few short weeks, it seems that Alice is everywhere I look these days, and imagine my surprise when a friend pointed this edition out to me yesterday at B&N. I am a real stickler for the original Sir John Tenniel illustrations for
Alice
, but I have to say that Camille Rose Garcia's illustrations are just so unique and original that I couldn't pass the book up. These are very much a modern day Alice - Garcia kept the feel of being in a dream intact, but brought them to vibrant, technicolored life. To be honest, these illustrations look like they could have been pulled right out of Tim Burton's head - they have that same creepy yet beautiful look and feel that I find so mesmerizing about Burton's films. Garcia's illustrations are a little off-kilter and her characters look a little crazed and everytings seems just a little out of proportion (even for poor Alice, who always has trouble keeping to just the right size) and yet it all comes together to create a wholly refreshing new look for the cast of the story. We even get a few glimpses of scenes that weren't illustrated in the original, such as the actual Lobster Quadrille, not just the Mock Turtle and Gryphon's demonstration. I'm hopeful we'll get to see her take on
Through the Looking Glass
in the near future.
For more information on the artist, you can visit her website
here
.