#21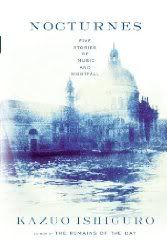 Title
:
Nocturnes: Five Stories of Music and Nightfall
Author
: Kazuo Ishiguro
Copyright
: 2009
Pages
: 221
ISBN
: 9780307271020
Publisher
:
Alfred A. Knopf
Twitter
: @AAKnopf
Format
: Hardcover from library
Rating
: 2/5 stars
Finished
: 3-5-10
Challenge
: 100 Books 10
From Amazon:
One of the most celebrated writers of our time gives us his first cycle of short fiction: five brilliantly etched, interconnected stories in which music is a vivid and essential character.

A once-popular singer, desperate to make a comeback, turning from the one certainty in his life... A man whose unerring taste in music is the only thing his closest friends value in him... A struggling singer-songwriter unwittingly involved in the failing marriage of a couple he's only just met... A gifted, underappreciated jazz musician who lets himself believe that plastic surgery will help his career... A young cellist whose tutor promises to "unwrap" his talent...

Passion or necessity — or the often uneasy combination of the two — determines the place of music in each of these lives. And, in one way or another, music delivers each of them to a moment of reckoning: sometimes comic, sometimes tragic, sometimes just eluding their grasp.

An exploration of love, need, and the ineluctable force of the past, Nocturnes reveals these individuals to us with extraordinary precision and subtlety, and with the arresting psychological and emotional detail that has marked all of Kazuo Ishiguro's acclaimed works of fiction.
OK, I'm going to just come right out and say this: I did NOT like this book. I read Ishiguro's
The Remains of the Day
too many years ago to use that as a comparison, but I did read
Never Let Me Go
a couple of years back and that was one of my top books of 2008.
Never Let Me Go
stayed with me for weeks after I finished, the nuances and implications of the story were so powerful.
Quite frankly, the only reason that I finished
Nocturnes
was because I was so shocked that something so bad could come from the same person that wrote something as mesmerizing as
Never Let Me Go
. I didn't feel the stories were of
Music and Nightfall
, but more of
Music and Nonsensical, Absurd, Totally Unrealistic Behaviors and Relationships
. The connections between the stories was feeble at best, and the actions of some of the characters in the stories seemed so farcical that I wasn't sure if Ishiguro was trying to make the stories into parodies or if he seriously believes that people act the way they do in his stories - for instance, in one story, the main character, on the suggestion of his friend who he is staying with, trashes the living room of the house he is visiting and gets down on his hands and knees to start eating a magazine to make it look like a dog had been in the house, simply to hide the fact that the main character had wrinkled the page in his friend's wife's datebook - who does this?
It wasn't until the last story,
Cellists
, that I felt that he hit any kind of stride in his story telling, without having to rely on such extreme caricatures of human behavior to move his story along. The interactions between the main characters seemed genuine in this one story, not forced, and therefore became the only redeeming value to this book for me.
In my estimation, reader beware. Just because Ishiguro can write some amazing novels, it appears that he has a little work to do until he can polish up a proper short story.