#22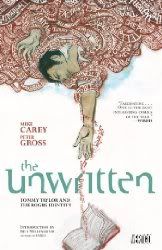 Title
:
The Unwritten, Volume 1: Tommy Taylor and the Bogus Identity
Authors
: Mike Carey, art by Peter Gross
Copyright
: 2010
Pages
: 144
ISBN
: 9781401225650
Publisher
:
DC Comics/Vertigo
Format
: Paperback
Rating
: 3/5 stars
Finished
: 3-9-10
Challenge
: 100 Books 10, 1010 (Graphic Novel Category)
From Amazon:
Tom Taylor's life was screwed from go. His father created the Tommy Taylor fantasy series, boy-wizard novels with popularity on par with Harry Potter. The problem is Dad modeled the fictional epic so closely to Tom's real life that fans are constantly comparing him to his counterpart, turning him into the lamest variety of Z-level celebrity. In the final novel, it's even implied that the fictional Tommy will crossover into the real world, giving delusional fans more excuses to harass Tom.

When an enormous scandal reveals that Tom might really be a boy-wizard made flesh, Tom comes into contact with a very mysterious, very deadly group that's secretly kept tabs on him all his life. Now, to protect his own life and discover the truth behind his origins, Tom will travel the world, eventually finding himself at locations all featured on a very special map -- one kept by the deadly group that charts places throughout world history where fictions have impacted and tangibly shaped reality, those stories ranging from famous literary works to folktales to pop culture. And in the process of figuring out what it all means, Tom will find himself having to figure out a huge conspiracy mystery that spans the entirety of the history of fiction.
Imagine that you are Harry Potter. Not the character in the wildly popular book series, but actually a young man named Harry Potter who is the basis for the wildly popular, thirteen book series that your father wrote with the main character based on you. What do you think your life would be like?
That's basically how
The Unwritten
opens. Tom Taylor's dad has written an enormously popular series of books, very similar to the Harry Potter books, and based the main character of the series on his son, even naming the series of the books after his son. Tom Taylor has grown up being "Tommy Taylor," the hero of his father's book series, and is becoming quite tired of that persona. He's tried several times to break out on his own, but nothing can change the public's perception that he
is
Tommy Taylor, boy wizard.
Eventually, it comes to light that possibly Tom Taylor may not be the person that even he thinks he is, and he goes on his own quest to discover his past and who he really is, only to discover there are secrets about his life that may or may not parallel the events of the books that his father wrote and that there is a group that seems to be bent of destroying him and who also seem to have been involved with other authors over the years, influencing their work to their own, mysterious ends.
Frankly, I had a hard time finishing this story. It was read for a graphic novel discussion group that I belong to, and found that I had lost interest about halfway through. I think the author is trying to drop too many mysteries all at one time into the story to make it intriguing, but I found it just made too many story threads to try to keep track of. One thing that I found particularly distracting was the final chapter of this collected edition, which tells who this mysterious group has been influencing authors for years. When I got to the last panel of the main story, and turned the page and discovered what seemed like an entirely disparate story going on, I actually thought there had been a mistake at the printer and that another entirely different graphic novel had been bound into the volume that I was reading. Once I figured out that this was telling a little back story, it made it a little more clear, but to finish out the novel in such a drastically different way really pulled me entirely out of a story that was already just barely keeping my interest. However, on the flip side of that, I'm interested to see how the map that is discovered that seems to link Tom Taylor to numerous physical landmarks that have some sort of tie to literary events (such as the house that all the main characters end up at the end of the book is the same house where Milton wrote
Paradie Lost
, Mary Shelley wrote
Frankenstein
and finally, supposedly Tom Taylor's father wrote the
Tommy Taylor
books here, too). This is the one aspect of the story that will bring me to getting the second volume, because I'd like to see how Carey works in other literary works into this story and how they will help Tom Taylor get out of his predicament.