#23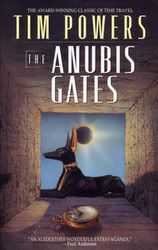 Title
:
The Anubis Gates
Author
: Tim Powers
Copyright
: 1983
Pages
: 387
ISBN
: 9780441004010
Publisher
:
Ace Books
Author Website
:
www.theworksoftimpowers.com
Format
: Paperback
Rating
: 4/5 stars
Finished
: 3-14-10
Challenge
: 100 Books 10, TIOLI (Steampunk category)
From Amazon:
A best-selling novel of time travel by a two-time winner of the Philip K. Dick Award combines action and adventure with the surreal and bizarre. By the author of Dinner at Deviant's Palace.
Holy cow, what a roller coaster of a ride of a book! You've got time travel, magic, science fiction, Egyptian mythology, world-conquering villains and more all wrapped up into 387 pages of
almost
non-stop action. I almost put the book down (about 20 pages from the second part, it turns out) because Powers takes no time in throwing us into his story; in fact, I felt that Doyle ended up being convinced far too quickly of the possibility of time travel and felt like maybe Powers was just going to keep that kind of pace up through the rest of book. And while the pace really never does let up, it just seemed that he was taking forever to get all of his characters into place, and I was just so desperate for the story to finally move along that I was growing quickly impatient and was ready to walk away from the whole thing. A friend, thankfully, convinced me to stick with it, and I'm glad that I did.
The second part of the book finally starts to take the significant number of threads that Powers started, and begins to weave them together into a fine web of a story that completely caught me up in its telling. I do think that the second part suffered from a little excess story telling again, but it was all necessary to bring the story and all of its characters together. The way that Powers worked so many characters and plot threads into one book, and managed to tie them all together and tie them up nicely into one big package is amazing. There is just so much that goes on in this book!
Even when I was working my through the parts of the book that I found a little tedious, I still felt that Powers' world and characters were completely tangible. His writing had an easy, relaxed flow to it that made the book really accessible and easy to get into. All in all, a really fantastic tale that I'm glad that I stuck with.