#33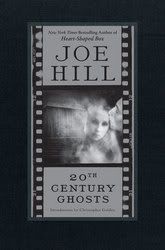 Title
:
20th Century Ghosts
Authors
: Joe Hill
Copyright
: 2007
Pages
: 336
ISBN
: 9780061147975
Publisher
:
William Morrow
Author Website
:
joehillfiction.com
Twitter
: @joe_hill
Format
: Hardcover
Rating
: 4/5 stars
Finished
: 4-30-10
Challenge
: 100 Books 10, TIOLI (Short story collection), 1010 Challenge (Fiction category)
From Amazon:
Imogene is young and beautiful. She kisses like a movie star and knows everything about every film ever made. She's also dead and waiting in the Rosebud Theater for Alec Sheldon one afternoon in 1945...

Arthur Roth is a lonely kid with big ideas and a gift for attracting abuse. It isn't easy to make friends when you're the only inflatable boy in town...

Francis is unhappy. Francis was human once, but that was then. Now he's an eight-foot-tall locust and everyone in Calliphora will tremble when they hear him sing...

John Finney is locked in a basement that's stained with the blood of half a dozen other murdered children. In the cellar with him is an antique telephone, long since disconnected, but which rings at night with calls from the dead...
I think it's a rare thing to be able to find a collection of ghost stories that have true heart and soul behind them, but that's exactly what you'll find with Joe Hill's collection,
20th Century Ghosts
. Don't get me wrong, you'll find your typical, run-of-the-mill ghost story here, but there still seems to be something in the background of each story that makes it more than just that typical ghost story.
My favorite of the lot would have to be the title story, "20th Century Ghost". It is such a unique and honestly touching ghost story, that I actually went back and reread that particular story a couple of times over as I read through the other stories.
Joe Hill has proven himself as a solid writer who doesn't have to use his father's celebrity at all to propel himself (his father is a writer a few of you may have heard of before, Stephen King). I'm looking forward to reading more of his work.