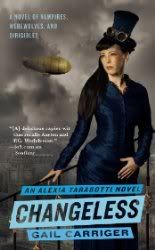 Title
:
Changeless
Series
:
The Parasol Protectorate
, Book 2
Authors
: Gail Carriger
Copyright
: 2010
Pages
: 388
ISBN
: 9780316074148
Publisher
:
Orbit Books
Author Website
:
www.gailcarriger.com
Twitter
:
@gailcarriger
,
@orbitbooks
Format
: Paperback
Rating
: 5/5 stars
From Amazon:
Alexia Tarabotti, the Lady Woolsey, awakens in the wee hours of the mid-afternoon to find her husband, who should be decently asleep like any normal werewolf, yelling at the top of his lungs. Then he disappears - leaving her to deal with a regiment of supernatural soldiers encamped on her doorstep, a plethora of exorcised ghosts, and an angry Queen Victoria.

But Alexia is armed with her trusty parasol, the latest fashions, and an arsenal of biting civility. Even when her investigations take her to Scotland, the backwater of ugly waistcoats, she is prepared: upending werewolf pack dynamics as only the soulless can.

She might even find time to track down her wayward husband, if she feels like it.
Oh, Gail Carriger; I'm having a love/hate relationship with you right now. Well, maybe
hate
is too strong a word. I simply loved
Soulless
, but
Changeless
left me wanting. Wanting what, I'm not quite sure, but wanting something more. Don't get me wrong,
Changeless
had all the elements that made
Soulless
such a great read, but that's just it; it was all the same. I think the book suffered from what I call "Second Book Syndrome;" where the sophomore offering in a series still hasn't quite hit the stride of the rest of the series and is more or less riding on the coattails of the first book. I have all the faith in the world that
Blameless
(released in September) will make that hurdle and keep the story moving along.
We have all our favorite characters from
Soulless
with the introduction to a handful of new characters who may or may not have the best interests of Alexia Tarabotti at heart. Ivy Hisselpenny has a slightly larger, if not more empty-headed, role this time around (seriously, a good title for a book of her own would be
Witless
or
Senseless
). I did find that Alexia's immersion into the pack hierarchy was handled very well; I felt that her character has had some honest growth from the first book to this one in that respect.
The cliffhanger ending I didn't feel was entirely necessary, but since that seems to be the way of the literary world these days, it doesn't leave me entirely surprised. The entire element of the cliffhanger could have been left off for a couple of more books, and that's all I'm going to say on that subject.
All things considered,
Changeless
is still a fun read. It may not entirely hold up to
Soulless
as a whole, but it's a good companion and leads nicely, if not a little abruptly, into the next book. If you have already read
Soulless
and are wondering about
Changeless
, I might say to hold off until later in the year when
Blameless
is released, but don't let this review of
Changeless
dissuade you from reading
Soulless
. They are both clever, fun books that will leave you laughing out loud on several occasions.