#28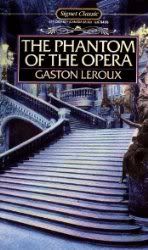 Title
:
The Phantom of the Opera
Author
: Gaston Leroux
Copyright
: 1911 (1987)
Pages
: 270
ISBN
: 9780451531872
Publisher
:
Signet Classic
Format
: Paperback
Rating
: 4/5 stars
Finished
: 4-2-10
Challenge
: 100 Books 10, 1010 Challenge (Classic, Early 1900s category)
From Amazon:
He lurked in the shadows of the Paris Opera House--a man with the voice of an angel but the face of a monster. His only hope for love is a beautiful soprano who draws him... to disaster.
I really had no prior knowledge of
The Phantom of the Opera
beyond the Lon Chaney film version and the Broadway production. The film version always had that wonderful, macabre feel to it and still felt like I was missing something, and I left the Broadway feeling not entirely fulfilled (Honestly, it was the chandelier scene that ruined the whole thing for me. Everybody kept going on and on about how fantastic and unbelievable the chandelier falling was, and all I could think when the scene finally happened was that the chandelier was falling so
slowly
that my 89 year old grandmother could have gotten out of the way of it. To me, there was nothing spectacular about that scene.) When the film version of the Broadway production was released, I enjoyed that a little more, but I still felt like there needed to be something more to the story. Perhaps I should have read the original a little sooner and I could have had that void filled.
Gaston Leroux's story is filled with all the elements that I felt the story was missing; the mystery and the Gothic flavor that I felt had been lacking in the other versions of this story that I had seen before. And, for something that was written almost 100 years ago, the story held up very well and didn't really feel all that dated to me. The background details of the Opera ghost's early life also helped me to understand his passions better than any other previous version, as well. I don't know really what else to say; I'm sure most are familiar with the story: the Opera ghost, who is horribly disfigured, lives in the sub-levels of the Paris Opera House and has fallen in love with Christine Daaé, whom he has been secretly teaching to sing. Christine is enthralled with him, thinking him to be the Angel of Music, as she has never seen the Opera ghost herself, just heard his voice. She is in love with the Viscount Raoul de Chagny, and when the Opera ghost discovers this, he kidnaps her and takes her to his home underneath the Opera House, but Raoul comes to her rescue. The stage production ends a little more dramatically than the book does, but I think I liked the ending to the book better, actually. It seems to fit the tone of the rest of the book a little better, in my opinion. Overall, an enjoyable read.