#29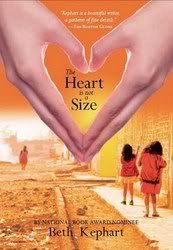 Title
:
The Heart is Not a Size
Author
: Beth Kephart
Copyright
: 2010
Pages
: 244
ISBN
: 9780061470486
Publisher
:
Harper Teen
Author Website
:
beth-kephart.blogspot.com
Twitter
: @harperteen
Format
: ARC from publisher
Rating
: 3.5/5 stars
Finished
: 4-10-10
Challenge
: 100 Books 10, Beth Kephart Reading Challenge, Dewey's 24 Hour Read-a-thon
From Amazon:
Georgia knows what it means to keep secrets. She knows how to ignore things. She knows that some things are better left unsaid... Or are they?

When Georgia and her best friend, Riley, travel along with nine other suburban Pennsylvania kids to Anapra, a squatters' village in the heat-flattened border city of Juarez, Mexico, secrets seem to percolate and threaten both a friendship and a life. Certainties unravel. Reality changes. And Georgia is left to figure out who she is outside the world she's always known.

Beth Kephart paints a world filled with emotion, longing, and the hot Mexican sun.
The Heart is Not a Size
is a quick read, but one that is filled with amazing imagery and prose. It is something that I am constantly impressed with by Beth Kephart, how she can capture so much beauty in her writing with just a handful of simple words.
The story follows two best friends, Georgia and Riley, as they travel to Anapra with a group of fellow students and chaperone's to help build a bathroom for the small squatter village. While there, their friendship is tested as a result of keeping too many secrets. Beth Kephart says it best in her Acknowledgments, "we need truth tellers as our friends."
Recommended.