#30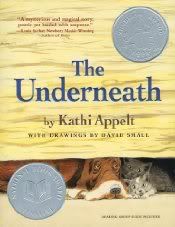 Title
:
The Underneath
Author
: Kathi Appelt
Copyright
: 2008
Pages
: 311
ISBN
: 9781416950592
Publisher
:
Antheneum
Author Website
:
www.kathiappelt.com
Format
: Paperback
Rating
: 4/5 stars
Finished
: 4-10-10
Challenge
: 100 Books 10, Dewey's 24 Hour Read-a-thon
Awards
: National Books Awards Finalist 2008, John Newbery Honor Book ALA 2009
From Amazon:
There is nothing lonelier than a cat who has been loved, at least for a while, and then abandoned on the side of the road.

A calico cat, about to have kittens, hears the lonely howl of a chained-up hound deep in the backwaters of the bayou. She dares to find him in the forest, and the hound dares to befriend this cat, this feline, this creature he is supposed to hate. They are an unlikely pair, about to become an unlikely family. Ranger urges the cat to hide underneath the porch, to raise her kittens there because Gar-Face, the man living inside the house, will surely use them as alligator bait should he find them. But they are safe in the Underneath...as long as they stay in the Underneath.

Kittens, however, are notoriously curious creatures. And one kitten's one moment of curiosity sets off a chain of events that is astonishing, remarkable, and enormous in its meaning. For everyone who loves Sounder, Shiloh, and The Yearling, for everyone who loves the haunting beauty of writers such as Marjorie Kinnan Rawlings, Flannery O'Connor, and Carson McCullers, Kathi Appelt spins a harrowing yet keenly sweet tale about the power of love -- and its opposite, hate -- the fragility of happiness and the importance of making good on your promises.
The Underneath
is a powerfully written story about family, whether it is your family that you are born to or the the family that you choose for yourself. It is a story about promises. It is a story about anger and revenge. It is a story about redemption. It is a story filled with too many chapter breaks.
Did that last sentence feel a little out of place? That's how I felt about the frequent chapter breaks in the book. The book is 311 pages, with 124 chapters. Some chapters are as little as one paragraph. It seemed very unnecessary in many cases, and became very distracting, breaking up the story too many times.
However, the story itself is still very powerful and touching. You know you're reading a good book when the villain does something extraordinarily evil and you just want to hit him yourself. Several times over. The message about keeping your family close, whoever that family ends up being, and about keeping your promises, is told very well, the two messages intermingling throughout the story.
Highly recommended.