#31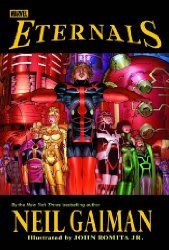 Title
:
The Eternals
Authors
: Neil Gaiman, art by John Romita Jr
Copyright
: 2008
Pages
: 256
ISBN
: 9780785121770
Publisher
:
Marvel
Author Website
:
www.neilgaiman.com
Twitter
: @marvel, @neilhimself
Format
: Paperback
Rating
: 4/5 stars
Finished
: 4-10-10
Challenge
: 100 Books 10
From Amazon:
You are thousands of years old. You have amazing powers. You have watched civilizations rise and fall. So why does no one remember any of this? Bestselling Author Neil Gaiman (Marvel: 1602, Anansi Boys, Sandman) is joined by superstar artist John Romita Jr. (Amazing Spider-Man, Wolverine) to present a tale that will change the Eternals and the Marvel Universe forever! Collects The Eternals #1-7.
I really enjoyed this graphic novel. Neil Gaiman did a really admirable job of updating the history of the Eternals, but still remaining faithful to the already existing mythology that Marvel built around them. If you are a new reader to the Eternals, you wouldn't feel lost, and if you are an old fan, you won't feel that the story has been changed all that much. John Romita Jr's art is spot on, as always, and his dynamic style fits the tone of the story perfectly.
Recommended.