#35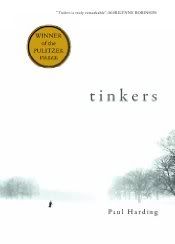 Title
:
Tinkers
Author
: Paul Harding
Copyright
: 2009
Pages
: 192 (only read 70)
ISBN
: 9781934137123
Publisher
:
Bellevue Literary Press
Format
: Paperback
Rating
: -/5 stars
Finished
: 5-9-10
Challenge
: 100 Books 10, TIOLI
From Amazon:
An old man lies dying. As time collapses into memory, he travels deep into his past where he is reunited with his father and relives the wonder and pain of his impoverished New England youth. At once heartbreaking and life affirming, Tinkers is an elegiac meditation on love, loss, and the fierce beauty of nature.

Paul Harding has an MFA from the Iowa Writers' Workshop and teaches creative writing at Harvard. He lives in Georgetown, Massachusetts.
I thought I'd try reading Paul Harding's
Tinkers
for May's TIOLI challenge (read a book with a 1 word title) and also because it just won the Pulitzer Prize, and I thought I'd try expanding my reading a little, as I've been mostly focusing on Fantasy and graphic novels lately.
George is dieing and the book opens eight days before his death, as he begins to hallucinate about his house falling about around him and onto him. He is beginning to see his life flash before his eyes, but as disjointed memories and thoughts that keep coming to him. The story also seems to run concurrently following the early life of George's father, Howard, as we learn about his experiences selling goods to the country people from his traveling wagon. At some point, George begins to think of his father and how he would like to have another chance to get to know him a little better. At least, I think that's where the story was going.
Unfortunately, all I can say is that I just don't think this is the right time for me to be reading this book. It's beautifully written and the imagery is gorgeous, but I simply can't get into the stream of consciousness writing. I read one complete chapter (70 pages, a little longer than my usual Rule of 50, but I was really trying to get into this book) and at the end of that chapter I really had not much of an idea of where the story was either going from or going to. I'd like to try to revisit this book some day, but I just think at this time of my life, it may prove to be a little too deep for me.
Either that, or it just isn't a very well written book after all, but I'm trying to keep an open mind about it because it did win the Pulitzer for a reason.