#36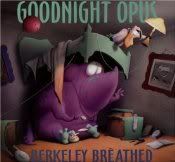 Title
:
Goodnight Opus
Author
: Berkeley Breathed
Copyright
: 1993
Pages
: 32
ISBN
: 9780316105996
Publisher
:
Little, Brown and Company
Author Website
:
www.berkeleybreathed.com
Format
: Hardcover
Rating
: 5/5 stars
Finished
: 5-14-10
Challenge
: 100 Books 10
From Amazon:
Opus loves listening to Grandma read his favorite bedtime story, but, one night, Opus decides to finish the story his own way, departing from the text in an exciting quest for adventure.
I adore this book! Both charming and mesmerizing, Berkeley Breathed has created an endearing bedtime story for his greatest creation, Opus. Even at 35 years old, I can still sit down on any given night, and take 10 minutes out of my evening to be swept away to the marvelous Milky Way and remind myself that sometimes, it is perfectly normal and quite a bit of fun to depart from the text, even if just for awhile.