#38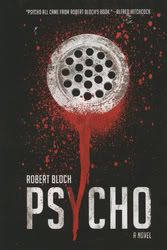 Title
:
Psycho
Author
: Robert Bloch
Copyright
: 1959
Pages
: 175
ISBN
: 9781590203354
Publisher
:
The Overlook Press
Format
: Paperback
Rating
: 4/5 stars
Finished
: 5-16-10
Challenge
: 100 Books 10, TIOLI (May - 1 word title), 1010 Challenge (Fiction category)
From Amazon:
Robert Bloch's Psycho captivated a nation when it appeared in 1959. The story was all too real - indeed this classic was inspired by the real-life story of Ed Gein, a psychotic murderer who led a dual life. Alfred Hitchcock too was captivated, and turned the book into one of the most-loved classic films of all time the year after it was released.

Norman Bates loves his Mother. She has been dead for the past twenty years, or so people think. Norman knows better though. He has lived with Mother ever since leaving the hospital in the old house up on the hill above the Bates motel. One night Norman spies on a beautiful woman that checks into the hotel as she undresses. Norman can't help but spy on her. Mother is there though. She is there to protect Norman from his filthy thoughts. She is there to protect him with her butcher knife.
I'm not really go to go into the story of
Psycho
, as I'm sure most everyone is at least marginally familiar with the story. What I will say, though, is that I was wishing while I read the book, that I
didn't
know what was going to happen. Robert Bloch's story is so creepy and his characterization of Norman Bates so unnerving, that I could only imagine how disturbing this book probably was to read originally before Alfred Hitchcock made it into a film. Then finding out that it was partially based on a true story (Bloch used Ed Gein as his inspiration) made it that much more unsettling.
The film
Psycho
is one of my favorite Hitchcock movies, and I have never read the book before. My local bookstore is having a screening of the film for it's 50th anniversary and then a discussion about the book and film afterward, so I thought this was the perfect opportunity to give it a read. I'm impressed with how faithful Hitchcock remained to the book, but I found myself enjoying the book so much more than the movie, as Bloch really goes into detail with what is going on in Bates' head, detail that wouldn't really translate well onto the big screen. And really, getting into Bates' head just shows just how bizarre his relationship with his mother really is, something that just didn't make it into the movie. I didn't realize that I was missing these details until I've read the book, but now that I have, the movie may or may not hold up as well.
Guardedly recommended if you are a fan of the movie, but read with caution if you're unsettled easily. It isn't overly graphic, but little is left to the imagination.