#41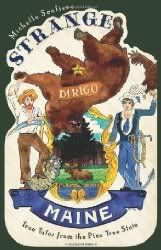 Title
:
Strange Maine: True Tales from the Pine Tree State
Author
: Michelle Souliere
Copyright
: 2010
Pages
: 128
ISBN
: 9781596299368
Publisher
: The History Press
Website
:
strangemaine.blogspot.com
Format
: Paperback
Rating
: 5/5 stars
Finished
: 5-31-10
Challenge
: 100 Books 10
From Amazon:
Maine is well known as a land of fresh air and clean water, as the home of L.L. Bean and as one of the most popular camping and outdoor recreation destinations in the country. But what lies behind this idyllic facade? Freaks. Weirdos. Unmapped roads. Whispering rocks. Deadening fog. Ghost pirates. Lonely islands. THINGS in the woods. This is the great state of Maine, home of Stephen King, land of the Great Northern Woods and all the mystery that lies within their dark footprint. What better setting than this for tales of strange creatures, murderers, madmen and eccentric hermits? From the "Headless Halloween of 1940" to Colonel Buck's curse, from Bigfoot sightings to the "witch's grave" in a Portland cemetery, writer and illustrator Michelle Souliere brings to life these strange-but-true tales from the Pine Tree State.
My sister is friend's with Michelle, who runs a blog (
strangemaine.blogspot.com
) and publishes the
Strange Maine Gazette
, and telling strange but true stories from the state of Maine. When I heard that she had published a book and was having a release party while I was out vacationing in Maine at her store,
The Green Hand
, I knew I wanted to stop by to pick up a copy.
What a perfectly fun little book! You can tell that Michelle has really done her homework and has thoroughly researched her subjects. Filled with all sorts of stories about the people and places of Maine that make up it's unique and strange history, little stories that you won't find in your generic history books, Michelle has created a one-of-a-kind travelogue to the more interesting aspects of Maine. I'm looking forward to future books and her continued publication of the
Strange Maine Gazette
.