#47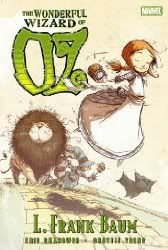 Title
:
The Wonderful Wizard of Oz
Related Series
: Marvel adaptations of
Oz
Authors
: L. Frank Baum, adapted by Eric Shanower and illustrated by Skottie Young
Copyright
: 2009
Pages
: 192
ISBN
: 9780785129219
Publisher
:
Marvel
Artist Website
:
www.skottieyoung.com
Twitter
: @marvel, @skottieyoung
Format
: Hardcover
Rating
: 4/5 stars
Finished
: 5-23-10
Challenge
: 100 Books 10, 1010 Challenge (Graphic novel category)
From Amazon:
The premiere American fantasy adventure gets the Merry Marvel treatment! Eisner Award-winning writer/artist Eric Shanower (Age of Bronze) teams up with fan-favorite artist Skottie Young (New X-Men) to bring L. Frank Baum's beloved classic to life! When Kansas farm girl Dorothy flies away to the magical Land of Oz, she fatally flattens a Wicked Witch, liberates a living Scarecrow and is hailed by the Munchkin people as a great sorceress... but all she really wants to know is: how does she get home?
OK, so I'm not going to go into the story here, as I think most everyone is a least marginally familiar with Dorothy and her adventures in Oz. What I will say is that Eric Shanower did a fairly decent job adapting L. Frank Baum's story for the sequential art medium, but it's really the art of Skottie Young that makes this book worthwhile. Young's art is fresh and whimsical and just a little creepy and I think he really captures the essence of Oz and its quirky inhabitants perfectly. I don't know that Oz purists will appreciate this volume very much, but as a fan of the original book, I can say that I really enjoyed it.
Recommended.