#49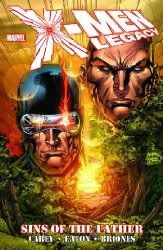 Title
:
X-Men Legacy: Sins of the Father
Related Series
:
X-Men
Authors
: Mike Carey, illustrated by Scot Eaton
Copyright
: 2008
Pages
: 168
ISBN
: 9780785130024
Publisher
:
Marvel
Twitter
: @marvel
Format
: Hardcover
Rating
: 3.5/5 stars
Finished
: 6-13-10
Challenge
: 100 Books 10, 1010 Challenge (Graphic novel category)
From Amazon:
Xavier traces his history and the history of the X-Men to the core. What he finds will shock you! And what do Rogue, Gambit, and Sebastian Shaw have to do with it? Then, Sinister's machinations finally come to a head, after decades of preparations. Can Xavier discover the secrets to the plot against his mind before he loses his sanity? Or will he become another in a long line of victims? Either way, he just may learn things about his past he'll come to regret! Guest starring Sebastian Shaw and the deadliest gator in the swamp, Gambit! Collects X-Men: Legacy #213-216.
Alas, we go right from one story that is decent to one that is mediocre, more or less. I'm not exactly sure what the point of the story was other than to bring Sinister back into the story for the umpteenth time (and people complain about Jean Grey coming back...). Anyway, I'm sure there is going to be a point to the "shocking" reveal at the end of the volume, but for right now, it left me wanting something more. The art was decent, and really, the story wasn't bad (although a little disjointed in sections) but I'm really hoping it's leading up to something better. And for anybody interested, I think you can safely skip the follow up stories. I think these were placed here just to fill up space.