#51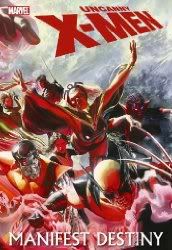 Title
:
Uncanny X-Men: Manifest Destiny
Related Series
:
X-Men
Authors
: Matt Fraction & Ed Brubaker, illustrated by Greg Land & Terry Dodson
Copyright
: 2009
Pages
: 208
ISBN
: 9780785138174
Publisher
:
Marvel
Twitter
: @marvel
Format
: Hardcover
Rating
: 4/5 stars
Finished
: 6-17-10
Challenge
: 100 Books 10, 1010 Challenge (Graphic novel category)
From Amazon:
Go west, young mutants! Following the events of Messiah CompleX, the X-Men are heading west, founding a new home for themselves and all mutants in a place known for its tolerance: San Francisco, California. Shortly after their arrival, however, the X-Men find themselves tangling with Magneto and fighting down the robotic, mutant-killing Sentinels. And as if that wasn't enough, Pixie, one of the youngest members of the team, learns just how dangerous bigotry is when she's confronted by the all-new Hellfire Cult. Collects Uncanny X-Men #500-503, X-Men FCBD #1, and X-Men: Manifest Destiny #1-5 (Dazzler, Karma, Mercury/X-23, Colossus, Emma Frost, Graymalkin, and Juggernaut)
This was a great kick off to a new chapter in the X-Men story. After basing their operations out of NYC almost exclusively for decades, the X-Men are moving to the west coast after the destruction of the mansion, and are setting up shop in San Francisco. They build themselves a new home there in abandoned military outposts around the city, and open their doors to all mutants, both active and former, who seek refuge there. Magneto shows up, mysteriously re-powered, and helps the High Evolutionary collect technology from the Dreaming Celestial, to a purpose that as yet seems to be a mystery.
Greg Land and Terry Dodson's art is amazing; both artists have such a dynamic style each to their own, and their storytelling is really good. Sometimes it's hard to follow what an artist is trying to illustrate, but not with these two. They are two of the best artists working on the X-Men in a while. I'm anxious to see where Matt Fraction is going to take these characters in the future.