#52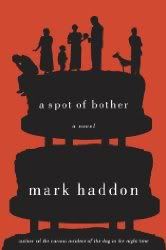 Title
:
A Spot of Bother
Author
: Mark Haddon
Copyright
: 2006
Pages
: 354
ISBN
: 9780385520515
Publisher
:
Doubleday
Author Website
:
www.markhaddon.com
Format
: Hardcover
Rating
: 4.5/5 stars
Finished
: 6-21-10
Challenge
: 100 Books, 1010 Challenge (Fiction category), TIOLI (June - A book with a problem in the title)
From Amazon:
George Hall is an unobtrusive man. A little distant, perhaps, a little cautious, not at quite at ease with the emotional demands of fatherhood, or manly bonhomie. He does not understand the modern obsession with talking about everything. "The secret of contentment, George felt, lay in ignoring many things completely." Some things in life, however, cannot be ignored.

At 61, George is settling down to a comfortable retirement, building a shed in his garden, reading historical novels and listening to a bit of light jazz. Then his tempestuous daughter, Katie, announces that she is getting re-married, to the deeply inappropriate Ray. Her family is not pleased – as her brother Jamie observes, Ray has "strangler's hands." Katie can't decide if she loves Ray, or loves the wonderful way he has with her son Jacob, and her mother Jean is a bit put out by all the planning and arguing the wedding has occasioned, which get in the way of her quite fulfilling late-life affair with one of her husband's ex-colleagues. And the tidy and pleasant life Jamie has created crumbles when he fails to invite his lover, Tony, to the dreaded nuptials.

Unnoticed in the uproar, George discovers a sinister lesion on his hip, and quietly begins to lose his mind.

The way these damaged people fall apart – and come together – as a family is the true subject of Haddon's disturbing yet amusing portrait of a dignified man trying to go insane politely.

A Spot of Bother is Mark Haddon's unforgettable follow-up to the internationally beloved bestseller The Curious Incident of the Dog in the Night-Time. Here the madness – literally – of family life proves rich comic fodder for Haddon's crackling prose and bittersweet insights into misdirected love.
I think Mark Haddon may be becoming one of my favorite authors. I read
TCIOTDITNT
a couple of years ago and just loved it. Shortly thereafter, I found a copy of
A Spot of Bother
at a library sale and picked it up, and regret to say that it has taken it this long for me to take if off my bookshelf to read it, but that's to the TIOLI Challenge, I finally worked my way around to it. And loved it. And can't wait to read more Mark Haddon.
Haddon's way of taking something that would probably be either ignored or looked upon uneasily because it should be a subject best left alone is amazing (in
TCIOTDITNT
, it is Christopher and his Asperger syndrome, in
ASOB
, it's George and his insanity). What's more amazing to me is how he can create a story that is both unsettling-ly funny and deceptively touching out of something that by all rights should be uncomfortable. To me, this speaks volumes about his ability as an author.
George's slow yet steady fall into madness is the base ingredient for the story, but it's the cast of characters and situations that surround George that really add the spice to the story. His wife, Jean, who is having an affair with his ex-coworker David. His daughter Katie, and her on-again-off-again fiancé Ray and her son from her first marriage, Jacob. His son Jaimie, and his boyfriend, Tony. All these characters come and go through the pages of George's story, all trying to deal with their own lives and issues while all are slowly piecing together the possibility that George may in fact be losing his mind.
It's a darkly comic story that I couldn't put down. Haddon seems to have a way with this stories like this, because the same thing happened with
TCIOTDITNT
; once I let the story pick me up, it wasn't going to let me go until I'd finished the book. Recommended, especially if you enjoyed
TCIOTDITNT
.