#53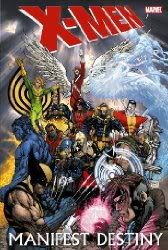 Title
:
X-Men: Manifest Destiny
Related Series
:
X-Men
Authors
: Mike Carey, et al.
Copyright
: 2009
Pages
: 200
ISBN
: 9780785138181
Publisher
:
Marvel
Twitter
: @marvel
Format
: Hardcover
Rating
: 2.5/5 stars
Finished
: 6-26-10
Challenge
: 100 Books 10, 1010 Challenge (Graphic novel category)
From Amazon:
When you move, you have to take your baggage with you. Joining the rest of the X-Men, Wolverine makes the trek to their new home in San Francisco, California. For much of his life, Logan's past has been a mystery, but now, after regaining his memories, Wolverine has more baggage than he can carry. Upon arriving, Logan goes to the center of San Francisco's legendary Chinatown to resolve a mysterious incident from his past. Although his last visit to the neighborhood was a full 50 years ago, Wolverine isn't the only one who remembers. As another piece of his violent past is unearthed, the mutant finds himself facing off against the deadly Black Dragon Death Squad! Collects Wolverine: Manifest Destiny #1-4, X-Men Manifest Destiny: Nightcrawler #1, and X-Men: Manifest Destiny #1-5 (Iceman, Nightcrawler, Boom-Boom, and Avalanche)
This is a collection of non-related stories that deal with the X-Men moving to San Francisco, and how some of them are adjusting to the move. I don't think there is anything in this volume that would be missed if it was to be skipped if you are reading through the current story lines. Not a necessary volume at all, in my eyes. This may sound harsh, but the best part for me about this volume is the Michael Turner cover.