#54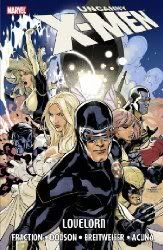 Title
:
Uncanny X-Men: Lovelorn
Related Series
:
X-Men
Authors
: Matt Fraction, illustrated by Terry Dodson, Mitch Breitweiser & Danial Acuña
Copyright
: 2009
Pages
: 136
ISBN
: 9780785129998
Publisher
:
Marvel
Twitter
: @marvel
Format
: Paperback
Rating
: 4/5 stars
Finished
: 6-26-10
Challenge
: 100 Books 10, 1010 Challenge (Graphic novel category)
From Amazon:
In the depths of his heartache over Kitty Pryde, Colossus goes looking for something - anything - to stop his pain... and finds a nightmare from the Old Country running rampant in the States. What's their connection? Elsewhere, Angel and the Beast begin a worldwide quest gathering some of the most unique minds on Earth and run across a hero long thought dormant. Emma checks into a hotel you have to see to believe, while poor Scott sits idly by... oh, and then footage showing the Alaskan Massacre that kicked off Messiah Complex is released to the media. Just another day in the life of the all new, all different X-MEN! Collects Uncanny X-Men #504-507 & Annual #2.
I've seen a lot of varying reviews on this particular volume. Some love it, some hate it, many are "Meh" over it. The reason is, there isn't much in this volume that can stand up as a stand alone volume. This is a "middle-of-the-story" volume, but you can't get from the beginning to the end of a story without something, in the middle right? There is lots going on in the X-Men universe by this time, and in Matt Fraction's stories, this is one of the main tie ins to what's to come. We see more of Madeleine Pryor as the Red Queen; Beast is recruiting his own version of the X-Club to try to figure out the secret to unlocking the X-gene; Colossus is off rescuing kidnaps Russians; and footage of the massacre in Alaska is leaked. But that's all there is in this volume, glimpses of the events leading up to things yet to come and the beginnings of lots and lots of secrets.
The inclusion of Annual #2 is a tie in to the Dark Reign story line moving throughout the rest of the Marvel Universe at this time. It seems to be a bit revisionist (but what isn't, these days?) and it seems a little out of place in the grand scheme of this story, but it does solve one mystery from the early issues in the volume: what was going on with Sebastian Shaw?