#55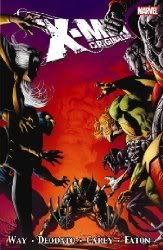 Title
:
X-Men: Original Sin
Related Series
:
X-Men
Authors
: Mike Carey & Daniel Way, illustrated by Scot Eaton & Mike Deodato
Copyright
: 2009
Pages
: 144
ISBN
: 9780785129561
Publisher
:
Marvel
Twitter
: @marvel
Format
: Paperback
Rating
: 2.5/5 stars
Finished
: 6-26-10
Challenge
: 100 Books 10, 1010 Challenge (Graphic novel category)
From Amazon:
After his bruising encounter with Cyclops and Emma Frost, Professor X is forced to revisit the biggest challenge and the biggest failure of his career: Logan. But the layers of lies hide one last, deadly secret which goes back to the days of the X-Men's founding - and the Professor's timing couldn't possibly be worse! Collects X-Men: Legacy #217-218, Wolverine: Origins #28-30, and X-Men Original Sin One-Shot.
OK, could there be anything more tiresome than yet another revision to Wolverine's history? Yes, there can be. Yet another Wolverine ripoff character. There have been many attempts at writing/rewriting his history and several attempts at creating characters that can be used to make more Wolverine-ish stories (X-23!), so now Wolverine apparently has a son with the seemingly same powers and seemingly same memory problems and seemingly same berserker rage - but wait! There's a difference! Now, he's a bad guy! to me, this is just a little lazy. It's basically Wolverine all over again. In fact, Wolverine goes to Professor X to try to do the same brainwashing on Daken that Professor X did on Wolverine back in the day, in yet another revision to his past.
The only reason I'm giving this lazy story anything more than 1 star is because the parts
around
the story are well written and the ending actually didn't go where I thought it was going to go, even though it still ended up paralleling Wolverine's own story a little bit too much.