#56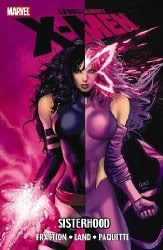 Title
:
Uncanny X-Men: Sisterhood
Related Series
:
X-Men
Authors
: Matt Fraction, illustrated by Greg Land, Terry Dodson & Yanick Paquette
Copyright
: 2009
Pages
: 144
ISBN
: 9780785141051
Publisher
:
Marvel
Twitter
: @marvel
Format
: Paperback
Rating
: 4/5 stars
Finished
: 6-26-10
Challenge
: 100 Books 10, 1010 Challenge (Graphic novel category)
From Amazon:
The X-Men get up to the delicate art of living as the Sisterhood plan their imminent demise. The Science Team gets to work, trying very hard not to kill one another first. Simon Trask gains traction in the California state legislature, muscling "Proposition X" to an emergency ballot vote. If it passes, mutants past and present, powered and otherwise, won't be allowed to breed. All this, and a friend returns as a foe and ready for murder! Oh, things are getting ugly... Collects Uncanny X-Men #508-512.
I'm becoming more and more impressed with Matt Fraction as the current writer on
Uncanny
. His writing reminds me of Joss Whedon's work on
Astonishing
, where the story seems more character-driven, with the big action happening, but more in the background. Yet the plot doesn't ever seem to suffer at the expense of the characters. It's all the a realy great balance of storytelling.
We finally find out what Madeleine Pryor, the Red Queen, has been up to these last couple of issues, but we don't find out why. It seems that she can bring people back from the grave with the help of her Sisterhood, a group of female villains that she brought together to help her achieve her means. When her ultimate objective is finally revealed, I felt a little lost, because there is no real explanation as to its cause, but maybe that's a story for another time.
I particularly enjoyed the X-Club's jaunt into the past, a past that seems to be heavily steampunk influenced, in search of possible answers to the reactivation of the X-gene. We even get our first glimpse at the first (steampunk) Sentinel!
A nice little addition to the current story, tying up several threads and leaving just enough to whet the appetite for the upcoming
Utopia
event.
Oh, and Greg Land continues to blow me away with his hyper-realistic art. Stunning.