#57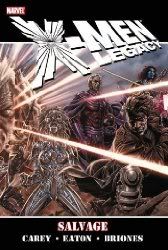 Title
:
X-Men Legacy: Salvage
Related Series
:
X-Men
Authors
: Mike Carey, illustrated by Phil Briones & Scot Eaton
Copyright
: 2009
Pages
: 168
ISBN
: 9780785141730
Publisher
:
Marvel
Twitter
: @marvel
Format
: Hardcover
Rating
: 4/5 stars
Finished
: 6-26-10
Challenge
: 100 Books 10, 1010 Challenge (Graphic novel category)
From Amazon:
It's the moment that X-Fans have been waiting for - Rogue makes her return to the X-Books. But while Xavier seeks out Rogue, who is searching for him? Hunter becomes hunted and friend becomes foe, in a story that will change your favorite Southern Belle forever. Plus: Professor X's odyssey brings him full circle as he answers a call from the Acolytes. But what do they want? Revenge? Or a new leader? Xavier's LEGACY journey ends here, and it's a doozie Collects X-Men: Legacy #219-225
OK, so I don't know exactly where
Legacy
is going these days. It only seems to be around as a series to revise and sort out all the side stories that have been dangling around in the X-universe for years. Sorting out Professor X. Mr. Sinister. Wolverine and Daken. Now Rogue and Danger. Don't get me wrong, it's good that these plots are finally being dealt with, but it just seems like they are rushing through all of them
right now
so that they can finally start integrating
Legacy
back into the mainstream stories. Which is fine. It looks like
Legacy
will be involved with the
Utopia
crossover, which is good, since it will seem like the series actually has some direction again.