#69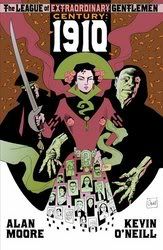 Title
:
The League of Extraordinary Gentlemen, Century: 1910
Related Series
:
The League of Extraordinary Gentlemen
Authors
: Alan Moore, illustrated by Kevin O'Neill
Copyright
: 2009
Pages
: 80
ISBN
: 9781603090001
Publisher
: Knockabout Comics
Format
: Paperback
Rating
: 2.5/5 stars
Finished
: 7-29-10
Challenge
: 100 Books 10, 1010 Challenge (Graphic novel category)
To be honest, I was not nearly as impressed with this volume of
The League of Extraordinary Gentlemen
as I was with the first two volumes. This is only the first part of a larger story, so hopefully it will improve as the story progresses.
I think part of the problem is that Alan Moore was a little too literarily vague. I mean, I don't mind researching a character to find out more about them and to understand their place in the story, but when well more than half of the cast of the story needs to be researched, that becomes too much of a chore for me. Maybe I'm just not as well-read as I think I am, but it rather struck me that Moore is trying to show us how much smarter he is than the rest of us by using such vague characters.
The current version of the League (Mina Murray, Quartermain "Jr", Orlando, Raffles & Carnacki - if you don't know who they all are, look them up like I had to do) are trying to stop an apocalyptic premonition that Carnacki has. By the end of the volume, I'm still not sure if they know what the premonition is all about or not. Again, it all seems rather vague. Hopefully the story will improve, but if the next volume isn't any better, I can honestly say that I'm not sure that I will care to read the final volume.
Overall, a real "meh" feeling with this one.