#59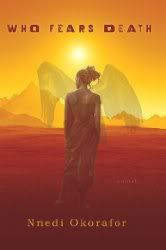 Title
:
Who Fears Death
Author
: Nnedi Okorafor
Copyright
: 2010
Pages
: 386
ISBN
: 9780756406172
Publisher
:
DAW Books
Author Website
:
nnedi.com
Twitter
: @nnedi, @dawbooks
Format
: Hardcover
Rating
: 4/5 stars
Finished
: 6-30-10
Challenge
: 100 Books 10, TIOLI (Book about Africa), 1010 Challenge (Fantasy category)
From Amazon:
An award-winning literary author presents her first foray into supernatural fantasy with a novel of post-apocalyptic Africa.

In a far future, post-nuclear-holocaust Africa, genocide plagues one region. The aggressors, the Nuru, have decided to follow the Great Book and exterminate the Okeke. But when the only surviving member of a slain Okeke village is brutally raped, she manages to escape, wandering farther into the desert. She gives birth to a baby girl with hair and skin the color of sand and instinctively knows that her daughter is different. She names her daughter Onyesonwu, which means "Who Fears Death?" in an ancient African tongue.

Reared under the tutelage of a mysterious and traditional shaman, Onyesonwu discovers her magical destiny-to end the genocide of her people. The journey to fulfill her destiny will force her to grapple with nature, tradition, history, true love, the spiritual mysteries of her culture-and eventually death itself.
Nnedi Okorafor's
Who Fears Death
is really an almost impossible book to categorize. At its core, it is a traditional fantasy hero's journey: there is the apprentice sorcerer in the main character, Onyesonwu, who comes from humble beginnings, hears of a prophecy that there is a savior who can help save her people, and decides to go on a journey to discover her past and to help save her people from the evil sorcerer who lives in his stronghold; the journey is arduous but Onyesonwu doesn't go alone, as her friends join her in her quest. From here, however, the story begins to take on elements of magical realism and alternate history, as it is unclear if the Sudan that the story takes place in is a future of our Sudan, or one from an alternate history. Okorafor steeps her story in elements of what is happening there today, so there is some level of realism to the story.
Onyesonwu's story is one of both tragedy and hope, told from her point of view while she is in jail for the "crimes" that she has committed during the rebellion. We follow her story from her violent conception to her time spent in jail, and it's not an always easy story to read, but one that flows almost organically through to its inevitable ending.
There were some elements of the story that I felt were a little incongruous. For instance, this story takes place in an undisclosed future complete with computers and hand held devices with built in maps that can track your location in the desert, yet to these people, there is no knowledge of anything that lies beyond the desert that they live in, as if there has never been any contact with the outside world. This just seemed a little odd to me. I'm probably just overthinking this, though, and really it doesn't detract from the story at all. The key here, I think, is that there is probably a lot lost on readers, like myself, who are unfamiliar with African legend and lore. Nnedi Okorafor, while born in America, comes from Nigerian descent and has spent much time in Nigeria over her life, so her story is steeped in African myth. I'm sure for those readers who are more versed in African legend, many of the names and environments used in the book would have more meaning. What is also important here is that while I am ignorant of the meaning behind many of the names and legends that Nnedi uses in her story, it absolutely did not feel like I was lost at any point during my time reading the story.
I thoroughly enjoyed
Who Fears Death
and look forward to reading more by Nnedi Okorafor. Recommended.