#61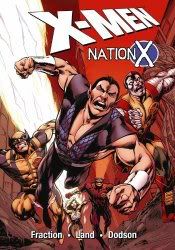 Title
:
Uncanny X-Men: Nation X
Related Series
:
X-Men
Authors
: Matt Fraction, illustrated by Greg Land, Terry Dodson, Alan Davis, et al.
Copyright
: 2010
Pages
: 344
ISBN
: 9780785138730
Publisher
:
Marvel
Twitter
: @marvel
Format
: Hardcover
Rating
: 4/5 stars
Finished
: 7-3-10
Challenge
: 100 Books 10, 1010 Challenge (Graphic novel category)
From Amazon:
A mutant nation has been created on UTOPIA, off the coast of California. But what does that mean to the X-Men? Magneto's return has stunned the X-Men, but that's not the only surprise they're in for as a herd of Predator X's come hungry for mutant tartar. The hits just keep on coming, but can the X-Men, still nursing their wounds from UTOPIA, deal with all this? What about when the island they call home begins to sink and Namor is the only one who can save the day? Plus: Jubilee returns to the X-Men, Gambit has trouble adjusting to life on Utopia, Northstar deals with the distance that island living necessitates and No-Girl has to save all the X-Men from a foe living right under their noses, Magik has banished Anole to Limbo, but why? COLLECTING: Uncanny X-Men #515-522, Dark Reign: The List - X-Men, Nation X #1-4
Cyclops has successfully built a new mutant sanctuary off the coast of California from the remains of Magneto's first Asteroid M, or has he? In the midst of an attack by a pack of Predator X's, the X-Club discovers that they don't have enough power to keep the island floating. Magneto arrives, and wants to help Cyclops, realizing that his and Professor X's time as the leaders of the mutant race has passed. He strikes a deal with Namor; the Atlanteans will build a pillar from the ocean floor to the the underside of the island to keep it afloat, and they can rebuild Atlantis at the base of the pillar, giving both races a new home.
Meanwhile, no one is really sure of Magneto's true reason for coming, and in wanting to prove his intentions are good, he secures the one thing that has been missing in all the X-Men's lives.
I really like where the X-Men stories are going lately. It's not necessarily all about the villain-du-jour, but there is some real character growth going on here, especially with Cyclops and his relationship with Professor X and as his new role of leader of the entire mutant race. I'm anxious to see where things will be going after
Second Coming
, the next story line that should finally resolve the issue of mutant child that Cable took into the future.