#62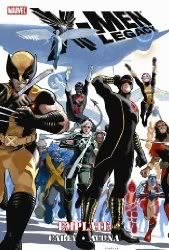 Title
:
X-Men Legacy: Emplate
Related Series
:
X-Men
Authors
: Mike Carey, illustrated by Daniel Acuna
Copyright
: 2010
Pages
: 112
ISBN
: 9780785141150
Publisher
:
Marvel
Twitter
: @marvel
Format
: Paperback
Rating
: 3.5/5 stars
Finished
: 7-4-10
Challenge
: 100 Books 10, 1010 Challenge (Graphic novel category)
From Amazon:
Emplate is back and he's out for blood. More specifically, for mutant bone marrow. And with the X-Men still reeling from Utopia, he may have picked the perfect time to come calling. Collects X-Men: Legacy #228-230, and Giant-Size X-Men: Legacy.
A return of an old X-Men foe, Emplate. Rogue figures out that her role with the X-Men has changed, again. And that's about all that really happens in this volume. Honestly, what's going on over in
Uncanny
is so much better than what is happening in
Legacy
right now. It's not bad, there's just lots of room for improvement.