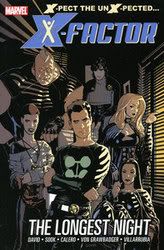 Title
:
X-Factor, Vol 1: The Longest Night
Related Series
:
X-Men
Authors
: Peter David, illustrated by Ryan Sook, Dennis Calero & Jose Villarrubia
Copyright
: 2006
Pages
: 144
ISBN
: 9780785118176
Publisher
:
Marvel
Twitter
: @marvel
Format
: Paperback
Rating
: 3.5/5 stars
Finished
: 7-10-10
Challenge
: 10 Books 10, 1010 Challenge (Graphic novel category)
From Amazon:
In the fallout from House of M and following the surprise film-noir hit Madrox, a new mutant team is forged! X-Factor is an investigative mutant agency that includes Madrox, the Multiple Man; Guido, the Strong Guy; Wolfsbane, the shape-shifter; Siryn, the chorus girl; Rictor, the living earthquake; and Generation X's Monet, the pompous witch. Drawn together in the heart of District X, this rag-tag band of heroes has a lot of answers to find, and fast! Collects X-Factor (2005) #1-6.
A pretty solid introduction to the characters for new readers, and a pretty good start for the series as a whole,
X-Factor
is written in a film-noir style with an art style to match. The team, based out of District X, the former "mutant town" until the events of House of M negated the X-gene in almost every mutant on Earth, wants to know what happened and why. And who is Layla Miller, and how/why does she she "know stuff" and why doesn't she want X-Factor to learn the truth about the Decimation? Who is Singularity Investigations? So many questions in such a short time for a new series, and yet I was OK with that and want to go back for more.