#67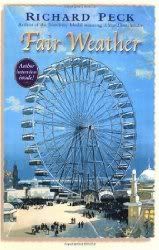 Title
:
Fair Weather
Author
: Richard Peck
Copyright
: 2003
Pages
: 146
ISBN
: 9780439430340
Publisher
:
Puffin
Format
: Paperback
Rating
: 3.5/5 stars
Finished
: 7-20-10
Challenge
: 100 Books 10, 1010 Challenge (Fiction category)
From Amazon:
Thirteen-year-old Rosie Beckett has never strayed further from her family's farm than a horse can pull a cart. Then a letter from her Aunt Euterpe arrives, and everything changes. It's 1893, the year of the World's Columbian Exposition-the "wonder of the age"-a.k.a. the Chicago World's Fair. Aunt Euterpe is inviting the Becketts to come for a visit and go to the fair! Award-winning author Richard Peck's fresh, realistic, and fun-filled writing truly brings the World's Fair-and Rosie and her family-to life.
Richard Peck's story of Rosie Beckett's adventure to the 1893 World's Columbian Expo is, in a word, enchanting. This was my first time reading anything by Peck, and I'm sure to find more by him.
Rosie, her mother, sister and brother are invited by their Aunt Euterpe to travel to Chicago to see the World's Fair. Their mother decides not to go, but thinks it might be a good idea to send the children. Never having traveled farther from home than their horse could travel, Chicago might as well have been an entirely different country for the children. Upon arriving in Chicago, through several accidents of fate, the children and their Aunt's lives are never going to be quite the same. Sprinkled throughout with historical names and places from Chicago's past, Peck deftly recreates that White City and the people that made it happen.
I love the city of Chicago. I visit there all the time, and someday would like to live there. When I can't make it to the city, I love to read about it, and one of my favorite subjects is the World's Fair. I would have loved to have been there, to have seen it firsthand and feel that rush of the possibility of tomorrow that it brought to so many people and Peck's book delivers that thrill through the eyes of his characters.
Recommended.