#68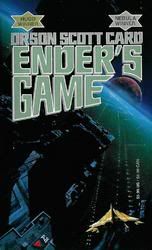 Title
:
Ender's Game
Related Series
:
Ender's Game
Author
: Orson Scott Card
Copyright
: 1985 (1994)
Pages
: 384
ISBN
: 9780812550702
Publisher
:
Tor
Author Website
:
www.hatrack.com
Twitter
: @torbooks
Format
: Audiobook
Rating
: 5/5 stars
Finished
: 7-26-2010
Challenge
: 100 Books 10, 1010 Challenge (Scifi category)
From Amazon:
Winnocser of the Hugo and Nebula Awards

In order to develop a secure defense against a hostile alien race's next attack, government agencies breed child geniuses and train them as soldiers. A brilliant young boy, Andrew "Ender" Wiggin lives with his kind but distant parents, his sadistic brother Peter, and the person he loves more than anyone else, his sister Valentine. Peter and Valentine were candidates for the soldier-training program but didn't make the cut—young Ender is the Wiggin drafted to the orbiting Battle School for rigorous military training.

Ender's skills make him a leader in school and respected in the Battle Room, where children play at mock battles in zero gravity. Yet growing up in an artificial community of young soldiers Ender suffers greatly from isolation, rivalry from his peers, pressure from the adult teachers, and an unsettling fear of the alien invaders. His psychological battles include loneliness, fear that he is becoming like the cruel brother he remembers, and fanning the flames of devotion to his beloved sister.

Is Ender the general Earth needs? But Ender is not the only result of the genetic experiments. The war with the Buggers has been raging for a hundred years, and the quest for the perfect general has been underway for almost as long. Ender's two older siblings are every bit as unusual as he is, but in very different ways. Between the three of them lie the abilities to remake a world. If, that is, the world survives.
Holy wow, but did I love this book! My friend Kristin has been after me for years to read it, and for one reason or another, I've never gotten around to it, and for that I am sorry. The book is compelling, touching, riveting, exciting, thrilling... well, I could just go on.
Maybe I'm a little too excited as I just finished listening to the audiobook (which is exceptionally produced), but I couldn't get over how much the story pulled me in. I found that I was genuinely concerned for Ender's well-being and the outcome of his story.
The Earth has been at war with the Bugger's (an insectoid alien race who have attempted two previous invasions) and in preparation of a third invasion, the world's governments have been training the smartest children they have to become commanders in the army. Sent off at an early age to Battle School, these children live and breathe the battle games that they play to learn the techniques necessary for battle. Ender Wiggin is possibly the brightest student that Battle School has ever seen, and will be the final answer to the Bugger invasion. If he can't defeat the impending invasion, the Earth may not have a chance. It is Ender's growth, however, that truly makes this story so unforgettable.
I really don't want to give too much away about the story and ruin what Ender has to go through at Battle School, but needless to say, you may not be able to step away from this story once started.
Highly recommended.