#71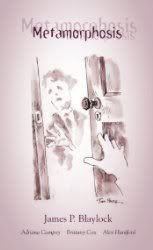 Title
:
Metamorphosis
Authors
: James Blaylock with Adriana Campoy, Brittany Cox, Alex Haniford and illustrated by Tim Powers
Copyright
: 2009
Pages
: 63
ISBN
: 9781596062214
Publisher
:
Subterranean Press
Rating
: 3.5/5 stars
Finished
: 8-16-10
Challenge
: 100 Books 10, 1010 Challenge (Fiction category)
From Amazon:
Metamorphosis: three stories, each one involving a man who discovers that he has come to dwell, for an hour or for a lifetime, in a house and in a mind not quite his own. Each one opens doors onto rooms of illusion, radiance, regret, and dark enchantment. Welcome to the stories of three young writers, stories written in collaboration with James P. Blaylock. Welcome to the borderland of illusion and reality.

Three tales, written in collaboration by James P. Blaylock with students in a class by Tim Powers, with an introduction and illustrations by Tim, an afterword by Blaylock, and some necessary meddling by William Ashbless.
This was a volume that I received in a grab bag of books from Subterranean Press, and since it was the smallest volume I received in the box, I decided to read it first off. The premise is interesting: the three stories included in the volume are collaborations by Blaylock with three of his students from a creative writing class that he teaches. Each story deals with a man who finds his perception of reality slightly shifted for just a moment, where he is able to perceive a world that may or may not be associated with our own. All the stories are well told, but the problem I have with the stories is that they may be too well told to be from the minds of high school students, and it's hard to determine where their ideas and writing would be distinguished from that of Blaylock. I'm not trying to disparage the writing of the three high school students in any way; I just wonder exactly how much influence Blaylock had over their writing.
Overall, a handsomely produced little volume and the added autographs from all five writers made for a nice surprise!