#72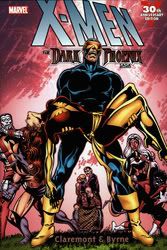 Title
:
X-Men: The Dark Phoenix Saga
Related Series
:
X-Men
Authors
: Chris Claremont & John Byrne
Copyright
: 2010 (1980)
Pages
: 352
ISBN
: 9780785149132
Publisher
:
Marvel Comics
Format
: Hardcover
Rating
: 5/5 stars
Finished
: 8-21-10
Challenge
: 100 Books 10, 1010 Challenge (Graphic novel category)
I'm going to admit to a small love affair with this story. It may be completely dated, but to me it remains one of the most defining X-Men stories. Ever.
Back in the day, the Chris Claremont and John Byrne run on X-Men was one of the most exciting eras in the comic's history. Quite a bit of what we see happening in the X-Men stories of today are direct results of what these two men did with the characters back then, and nothing seemed to be bigger during that time than the Dark Phoenix Saga. Jean Grey had been reborn as Phoenix after saving her teammates at the apparent cost of her own life. It quickly became clear that her powers had grown tremendously, and seemed to continue growing exponentially. Eventually, through the manipulations of Mastermind, the true overwhelming potential of her power became evident and Dark Phoenix was born, a being with powers of a cosmic proportion. To sate her hunger, she consumed a star, causing it to go supernova and destroying an inhabited world. Upon arriving back to Earth, the X-Men attacked Jean and tried to diffuse her power. When they were unable to accomplish this, Professor X took matters in his own hands and challenged Dark Phoenix on the psychic level, and won, supposedly locking Dark Phoenix back away in Jean's mind. However at that moment, in order to pay for her transgressions, Lilandra kidnapped the X-Men and sentenced Phoenix to death. Professor X challenged his X-Men against Lilandra's Imperial Guard for the life of Jean Grey, and both teams were sent to the Blue Area of the moon to battle. During the course of the battle, Jean began to feel Dark Phoenix taking control, and instead of allowing that to happen and to have more blood on her hands, she decides to take her own life, thus ending the battle.
There were so many other great moments in this storyline: the introduction of Emma Frost, the Hellfire Club, Kitty Pryde, Dazzler. All of this was paving the road for some great stories through the rest of the 80s. Like I said before, it it definitely dated. The need to re-introduce a characters name and their power and/or weakness, ever single issue, becomes even more tiring when you're reading a collected edition like this, but even so, I still love to pull this off the shelf every couple of years to give it a reread. This new 30th Anniversary Edition is gorgeous, and the coloring is nice and crisp.
Now, for the only complaint about the collection: charging $75 for this edition is ridiculous. The two
Inferno
collections cost $75 each, and they each collect roughly 600 pages of story each, where
The Dark Phoenix Saga
is only 350 pages. To me, this is something of a ripoff. This new edition does collect a short story from
Classic X-Men
and
Bizarre Adventures
, the
Phoenix: The Untold Story
one-shot (which is the original version of the story where Jean Grey lives) and a
What If?
story about what would have happened if Jean Grey lived, but still, $75 is a steep price for this collection. It is so nicely presented that I can almost forgive them the price, but just barely; obviously, it didn't stop me from buying the edition.
I would highly recommend this edition to any X-Men fans, but for somebody who is just looking for a quick read and is not as interested in all the extras with this edition, spend the lesser money and get the trade paperback edition. This edition is really only for the hard-core fans.