#75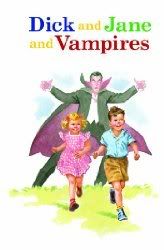 Title
:
Dick and Jane and Vampires
Authors
: Laura Marchesani, illustrated by Tommy Hunt
Copyright
: 2010
Pages
: 144
ISBN
: 9780448455686
Publisher
: Grosset & Dunlap
Author Website
: N/A
Format
: Hardcover
Rating
: 3.5/5 stars
Finished
: 8-27-10
Challenge
: 100 Books 10, 1010 Challenge (Fantasy (?) category)
From Amazon:
When innocent Dick and Jane meet a creepy, cape-wearing vampire, the unexpected happens: he becomes their friend! Dick and Jane and Vampires borrows from the classic stories and art we all know and love, but adds an of-the-moment twist: a vampire, illustrated in the classic Dick and Jane style.
Looking for your next great dose of the supernatural? Thinking
Twilight
? Forget it.
Pride and Prejudice and Zombies
? Nope. No, what you need is a good, old-fashioned selection. Something like
Dick and Jane and Vampires
.
...Wait, what?
Yeah, that was my first thought, too, when I saw the solicit for this book on
ShelfAwareness
. I also knew at that moment that this was a book that I was just going to have to own. And I was right. It reads exactly like a
Dick and Jane
, but it's not. It's one of the more clever literary mash-ups that I've seen recently.
Dick and Jane discover a bat one day. The bat never stays around for very long, but starts to become bolder and bolder in its attempts to interact with the children, and eventually reveals itself to be a vampire! Dick and Jane and family and the vampire grow more and more comfortable with each other, and even become friends. While this was not the ending that I was expecting (to be honest, I really was anticipating something more malicious with the children becoming vampires themselves), I still found the story quite funny. The writing is spot-on for a
Dick and Jane
, and you would have thought the illustrations were actual originals from the time, if not for the inclusion of the vampire. All around, a very clever and totally tongue in cheek little volume that is perfectly presented and doesn't take itself too seriously.