#77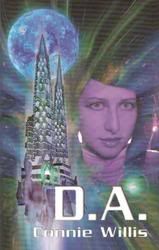 Title
:
D.A.
Author
: Connie Willis
Copyright
: 2007
Pages
: 76
ISBN
: 9781596061200
Publisher
:
Subterranean Press
Author Website
:
www.conniewillis.net
Format
: Hardcover
Rating
: 3/5 stars
Finished
: 9-11-10
Challenge
: 100 Books 10, 1010 Challenge (SciFi Category)
From Amazon:
Theodora Baumgarten has just been selected as an IASA space cadet, and therein lies the problem. She didn't apply for the ultra-coveted posting, and doesn't relish spending years aboard the ship to which she's been assigned.

But the plucky young heroine, in true Heinlein fashion, has no plans to go along with the program. Aided by her hacker best friend Kimkim, in a screwball comedy that has become Connie Wills' hallmark, Theodora will stop at nothing to uncover the conspiracy that has her shanghaied.
This is another book that I received in my Subterranean Press grabbag from a couple weeks back, and while is something that I would never have picked up on my own, it was a fun, quick little read. Theodora Baumgarten is accepted to the IASA, the Academy that teaches new cadets to become astronauts. The only problem is, she never wanted to go to the IASA and never applied. So, how did she get in? Some clever hacking from her friend Kimkim finally reveals the answer and Theodora is left to make some big decisions about her life.
This is my first experience reading Connie Willis and it wasn't bad, but I certainly need to find something a little longer that I can really sink my teeth into. I really can't recommend or not recommend this book. It just is.