#76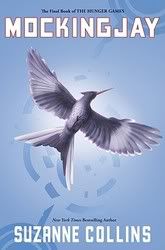 Title
:
Mockingjay
Related Series
: The Final Book of
The Hunger Games
Author
: Suzanne Collins
Copyright
: 2010
Pages
: 391
ISBN
: 9780439023511
Publisher
:
Scholastic
Author Website
:
suzannecollinsbooks.com
Format
: Hardcover
Rating
: 3.5/5 stars
Finished
: 9-9-10
Challenge
: 100 Books 10, 1010 Challenge (Fiction category)
From Amazon:
Against all odds, Katniss Everdeen has survived the Hunger Games twice. But now that she's made it out of the bloody arena alive, she's still not safe. The Capitol is angry. The Capitol wants revenge. Who do they think should pay for the unrest? Katniss. And what's worse, President Snow has made it clear that no one else is safe either. Not Katniss's family, not her friends, not the people of District 12. Powerful and haunting, this thrilling final installment of Suzanne Collins's groundbreaking The Hunger Games trilogy promises to be one of the most talked about books of the year.
OK, so I'm not going to go into a bunch of detail about the actual story, because I don't think I could really talk about anything that wouldn't require huge spoiler tags throughout the entire post, so I'm just going to stick with talking about my general impressions of the book. Keep in mind, however, that there could still be what might be considered spoilers.
Like everybody who has been reading
The Hunger Games
, I'm sure I wasn't alone in the excitement of the release of the final installment in the story. I even waited until I had an entire day where I could sit down and devote all the time I needed to read the book in one sitting. I got myself all psyched to reenter the world of Katniss Everdeen. Would it be Peeta? Would it be Gale? Would the Capital fall?
Well...
So, I may or may not catch crap from the rest of the reading world over this, but I found the book to only be mildly engaging. Don't get me wrong, I absolutely couldn't wait to see how the story was going to end, but the book was
not
unputdownable. I was easily able to set the book aside and come back to it later. Some portions of the story seemed to be far too overplayed (3 pages to explain a song that Katniss's father used to sing to her?) and other portions far too underplayed (1 dismissive paragraph about Katniss's new bow, which seems to be alive, yet no further explanation is ever given). And ending every single chapter with a shocking last sentence got a little tedious by the end of the book.
Speaking of the ending of the book. A good indicator for me about the lack of investment in the story was when I got down to about 20-30 pages left of the book, and I was tired the night I was finishing it, and I didn't even really care to try to stay awake to see what happened. And what did happen? All the action seems to take place while Katniss is in a delirium (I don't think I'm actually giving an important plot point away here) and we, the audience, find out what happened in the background through piecemeal flashbacks. Honestly, it felt like the book could have ended earlier and a fourth novella been released as the ending (Suzanne Collins probably would have
loved
this idea - the ultimate cliffhanger ending that she seems all too eager to write) since I don't think a fourth full length book could have supported the ending, or
Mockingjay
could have been longer. I got the impression that she needed to end the book under so many pages, so basically just wrote off what happened in the end like she did just to make it fit in the space her editors gave her. Who knows, but the ending of the book was something of a letdown to me. Too easily dismissive (not only in the storytelling but also in how some characters were dealt with) and too anticlimactic for my liking.
Don't get me wrong.
Mockingjay
is good. It finishes the story and leaves no plot points dangling, but compared to the previous two books (especially
Catching Fire
), it doesn't quite live up to it's predecessors. If you're a fan of the
the Hunger Games
and
Catching Fire
, you'll definitely want to read
Mockingjay
. Just don't go in with too high expectations.