#79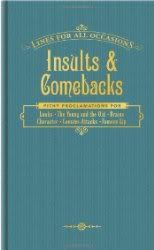 Title
:
Insults and Comebacks for All Occasions
Related Series
:
Lines for All Occasions
Copyright
: 2008
Pages
: 112
Publisher
:
Knock Knock Books
Format
: Hardcover
Rating
: 3/5 stars
Finished
: 9-15-10
Challenge
: 100 Books 10
From Amazon:
There's a time and a place for saying what's really on your mind, and Insults & Comebacks for All Occasions provides verbatim lines for dishing it out with wit and verve. Armed with barbs targeting everything from looks to age to intelligence to character, you'll always be prepared with an appropriate or completely inappropriate put-down or comeback. With the help of this pocket-sized prompter, your reputation will soon precede you.
OK, I'm going to admit that this book was simply purchased on a whim with no other basis than the silliness of it. The book is put together very attractively (it looks like an older book, with no dust jacket and the name foil stamped directly onto the front board in a retro font) but, really, the matter is very subjective. It is exactly what the title says it is, a collection of insults to use in everyday conversation and some are funny and some are not, and the whole thing written entirely tongue in cheek. I can't really recommend this to anybody, except people who like some good sarcasm, and even then only thinly recommended.