#80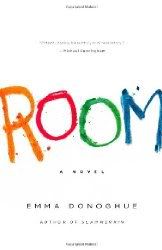 Title
:
Room
Author
: Emma Donoghue
Copyright
: 2010
Pages
: 321
ISBN
: 9780316098335
Publisher
:
Little Brown and Company
Author Website
:
www.emmadonoghue.com
Format
: Hardcover
Rating
: 5/5 stars
Finished
: 9-19-10
Challenge
: 100 Books 10, 1010 Challenge (Fiction Category)
Awards
: Man Booker Prize Shortlist 2010
From Amazon:
To five-year-old Jack, Room is the entire world. It is where he was born and grew up; it's where he lives with his Ma as they learn and read and eat and sleep and play. At night, his Ma shuts him safely in the wardrobe, where he is meant to be asleep when Old Nick visits.

Room is home to Jack, but to Ma, it is the prison where Old Nick has held her captive for seven years. Through determination, ingenuity, and fierce motherly love, Ma has created a life for Jack. But she knows it's not enough...not for her or for him. She devises a bold escape plan, one that relies on her young son's bravery and a lot of luck. What she does not realize is just how unprepared she is for the plan to actually work.

Told entirely in the language of the energetic, pragmatic five-year-old Jack, Room is a celebration of resilience and the limitless bond between parent and child, a brilliantly executed novel about what it means to journey from one world to another.
For five year old Jack, there has never been anything other than Room and Ma. He was born in Room, he's lived his entire life in Room, he has never left Room. Ever. It is his home. However, for Ma, it has been a prison for the last seven years, a place where she has been held captive by Old Nick. It is also where she keeps Jack safe, but even she knows they'll have to escape eventually. It is going to have to be a daring plan, one that requires all of Jack's bravery to deal with the Outside, a place that he has never ventured into. But if they actually get to the Outside, how will Jack deal with discovering that there truly is another outside world that he has never known about.
Told entirely from Jack's point of view,
Room
is unlike anything that I have read. To look at life through the eyes of a child who has never experienced anything beyond the 11 x 11 foot dimension of his confines is amazing. Things that we would take utterly for granted are utterly new and strange to him. It is a sometimes refreshing and frightening perspective, and one that is entirely unique.
Sometimes I found Jack to be a little
too
intelligent for never having experienced anything outside of Room and Ma (we never discover her real name) seems to have a little bit too much insight on how to care for Jack and the things that he needs to stay healthy for someone who was kidnapped at 19 and no contact with the outside world or guidance on how to raise a child. For instance, knowing that they need time to sunbathe from the light coming through the skylight so that they have a tolerance for sunlight or having Jack focus on things close and then far away (the roof) to help strengthen his eyes seem, at least to me, a little too far fetched for someone in Ma's situation to inherently understand.
These technicalities aside,
Room
is still an astounding book and one that I couldn't put down. Ma's love for Jack, even when she is at her wit's end with him, and Jack's returned love for Ma, even when he is angry with her and doesn't always understand her reasons for what she does, is evident on every page. Emma Donoghue balances just the right amounts of hope, pathos, suspense and relief to make
Room
an engaging story without taking any of these elements too far.
Highly Recommended.