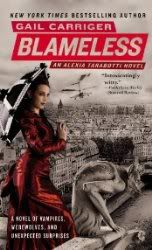 Title
:
Blameless
Series
:
The Parasol Protectorate
, Book 3
Author
: Gail Carriger
Copyright
: 2010
Pages
: 374
ISBN
: 9780316074155
Publisher
:
Orbit Books
Author Website
:
www.gailcarriger.com
Twitter
:
@gailcarriger
,
@orbitbooks
Format
: Paperback
Rating
: 5/5 stars
From Amazon:
Quitting her husband's house and moving back in with her horrible family, Lady Maccon becomes the scandal of the London season.

Queen Victoria dismisses her from the Shadow Council, and the only person who can explain anything, Lord Akeldama, unexpectedly leaves town. To top it all off, Alexia is attacked by homicidal mechanical ladybugs, indicating, as only ladybugs can, the fact that all of London's vampires are now very much interested in seeing Alexia quite thoroughly dead.

While Lord Maccon elects to get progressively more inebriated and Professor Lyall desperately tries to hold the Woolsey werewolf pack together, Alexia flees England for Italy in search of the mysterious Templars. Only they know enough about the preternatural to explain her increasingly inconvenient condition, but they may be worse than the vampires -- and they're armed with pesto.
Gail Carriger, how do I love thee? Let me count the ways: La Diva Tarabotti. Lord Akeldama. Pesto. Formaldehyde. Templars. Biffy. Floote. Lord Maccon. "Parassault." Killer ladybugs. Vampires. Werewolves. Seriously, I could just go on and on and on about how I love Gail Carriger. And what do all of these tidbits (and more!) add up to? The latest, delicious volume in the
Parasol Protectorate
series.
Spoilers Ahead!
Blameless
, the latest offering from Gail Carriger in her
Parasol Protectorate
series, finds our soulless heroine, Alexia Maccon (neé Tarabotti) is on the run. After the shocking revelations at the end of
Changeless
, she has been cast out by her brute of a werewolf husband, Lord Maccon, and has since discovered that for an as yet discovered reason, the vampires have set out to kill her, by any means possible (including killer mechanical ladybugs). Add to that the decision by the Queen to remove her status as muhjah of the Shadow Council, and Alexia is not having the best of times right now. Deciding that she needs some answers to her current condition, delicate as it is, Alexia travels abroad, in search of the Templars and some possible information regarding her, her father and her position as a preternatural.
Meanwhile back in London, there is intrigue and suspense galore as Lord Akeldama swarms from his home after a mysterious possession of his is stolen. How is this tied to the government? How do the werewolves play into all of this? And when will the formaldehyde run out?
And where exactly has Woolsey's Gamma run off to?
Gail Carriger has outdone herself with
Blameless
. I'll admit that I was a little concerned with the direction that Alexia and Co. were taking at the end of
Changeless
(I thought the situation seemed to come about a little too early), but I should never have doubted Ms. Carriger's ability, me the lowly reader that I am. She has taken a delicate state of affairs, and has made it into an integral, key plot point that helped move
Blameless
along with all the clever and witty pacing that I've come to love from her books. Having Alexia not attached to Lord Maccon was a refreshing treat. I think the characters are most interesting when they are apart, and Alexia is at odds with Connall. Of course, this situation won't always be that way, and of course they work well together, but I particularly loved the agitation felt throughout the book. The only other addition that I would have liked to see this time around? More Lord Akeldama. He has continually grown on me and may very well be my favorite character of the cast. He's just so over the top and divine.
The level of intrigue and the mystery behind the preternaturals was handled so well this time around. Ms. Carriger is developing a most engaging mythology and history for her characters, and I can't wait to find out more! There was
just
enough dangling plot lines left over to completely whet my appetite for more!
If you haven't had the pleasure of reading any of the
Parasol Protectorate
series, do yourself a favor, quit reading this humble blog and dash off to your nearest bookseller and acquire copies of all three books. Immediately. Posthaste. You won't be sorry. Gail Carriger may be one of the funniest authors that I've come across in awhile, and her books and characters are among the most charming and scintillating that I've read this year. My only regret now is that we've had the pleasure of three books released with the last year, that now we have to wait until the spring of next year to see what happens next!
Highly, highly recommended.