#83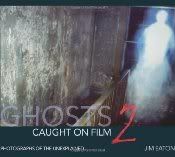 Title
:
Ghosts Caught on Film 2: Photographs of the Unexplained
Author
: Jim Eaton
Copyright
: 2009
Pages
: 159
ISBN
: 9780715332023
Publisher
:
David & Charles
Author Website
:
www.ghoststudy.com
Format
: Hardcover
Rating
: 4/5 stars
Finished
: 10-3-10
Challenge
: 100 Books 10, 1010 Challenge (Non-fiction category), Creepy Reading 10
From Amazon:
From shadowy figures, strange mists and apparitions to angels and demons, Ghost Photos is a compendium of extraordinary phenomena caught on film. The author has spent over 10 years studying thousands of photographs and here he presents a collection of the most intriguing in seven enigmatic chapters. This book includes a gallery of explainable photographic effects that are commonly mistaken for pictures of ghosts.
Ghosts Caught on Film 2
is a collection of photographs and webcam grabs of ghosts and other apparitions that are not easily explained, along with explanations of where the photo came from and some history on who took the photo. Some of the photos in the book I've seen before, some are new to me. While this book probably is not for everyone, as I'm sure not everyone believes in the possibility of the supernatural, these types of books are a true guilty pleasure for me and I really enjoyed this one. The photos are clearly presented and the descriptions are concise without a lot of fluff. If you like books on ghosts, this would be for you.