#84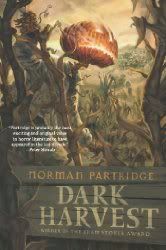 Title
:
Dark Harvest
Author
: Norman Partridge
Copyright
: 2006
Pages
: 169
ISBN
: 9780765319111
Publisher
:
Tor Books
Author Website
:
www.normanpartridge.com
Twitter
: @torbooks
Format
: Paperback
Rating
: 4.5/5 stars
Finished
: 10-6-10
Challenge
: 100 Books 10, 1010 Challenge (Fiction category), Creepy Reading 10
Awards
: Bram Stoker Award 2006
From Amazon:
Halloween, 1963. They call him the October Boy, or Ol' Hacksaw Face, or Sawtooth Jack. Whatever the name, everybody in this small Midwestern town knows who he is. How he rises from the cornfields every Halloween, a butcher knife in his hand, and makes his way toward town, where gangs of teenage boys eagerly await their chance to confront the legendary nightmare. Both the hunter and the hunted, the October Boy is the prize in an annual rite of life and death.

Pete McCormick knows that killing the October Boy is his one chance to escape a dead-end future in this one-horse town. He's willing to risk everything, including his life, to be a winner for once. But before the night is over, Pete will look into the saw-toothed face of horror--and discover the terrifying true secret of the October Boy . . .

Winner of the Stoker Award and named one of the 100 Best Novels of 2006 by Publishers Weekly, Dark Harvest is a powerhouse thrill-ride with all the resonance of Shirley Jackson's "The Lottery."
I had no idea who Norman Partridge was when I picked up
Dark Harvest
. It was the cover that caught my eye (as so happens with books!). That image of a Jack o' Lantern-headed scarecrow, eyes and mouth glowing with an inner fire, making his way through a cornfield completely caught my imagination and I
had to know
what this story was about.
Reading Norman Partridge's
Dark Harvest
was a pleasant surprise. Well, not a
pleasant
surprise, since a story about a living scarecrow who is trying to make his way to the small town church before midnight on Halloween, while all the boys in the town, who have been locked up for five days with no food, are set loose to try and kill him... well, that story really can't be all that pleasant, now can it? However, what surprised me so much was how strongly I was pulled into this story.
Every Halloween in this small town in the middle of nowhere, the October Boy is raised from the cornfields and makes his way towards town. For the previous five days, all the boys from sixteen to nineteen have been locked up, with no food, awaiting their release out into the Run, hunting the October Boy before he can make his way to the church. Whoever kills the October Boy gets a free ride out of town, and his family are showered with gifts, a new house, no bills, for that entire following year, until the next Halloween comes around and the cycle starts all over again. Part of why I loved this book is that there is no explanation as to
why
things are this way in this unnamed town. Why is the October Boy raised every year? Why can't the residents leave, or why are they not allowed to leave town? What will happen if the October Boy actually reaches the church? What are the consequences of this? None of these questions are truly answered, simply hinted at, yet you don't doubt the importance of any of the actions of the townsfolk, or the October Boy. You simply accept that this is the way things are, and this is how the story has to unfold, and you carry on with the story. And not having to answer these questions is, at least to me, what makes Partridge such an impressive, new-to-me author.
The characters are sympathetic; they could be anyone that you know in any small town. The small town could be like any other small town in America. Yet, there is something evil and unsettling just under the surface, something that these people have come to understand and respect in their own way. You as the reader accept these things too, however unpleasant that they may be, and will keep reading to find out more. As the secrets of this small town start to unravel, you will feel even more sympathy for them, and yet find revulsion at the same time. And you'll still want more. This is a quick read, but one that will leave you wishing there were more to the story, wanting to know what happens next, what the ultimate fate of the October Boy and this small town will be.
I will definitely be on the look out for more by Norman Partridge. Recommended.