#85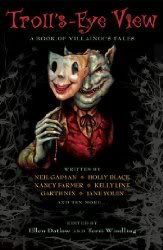 Title
:
Troll's-Eye View: A Book of Villainous Tales
Editors
: Ellen Datlow & Terri Windling
Copyright
: 2010
Pages
: 208
ISBN
: 9780142416730
Publisher
:
Firebird Books
Author Website
:
ellen-datlow.livejournal.com
Author Website
:
www.terriwindling.com
Format
: Paperback
Rating
: 3.5/5 stars
Finished
: 10-10-10
Challenge
: 100 Books 10, 1010 Challenge (Fantasy category), Creepy Reading 10
From Amazon:
Everyone thinks they know the real story behind the villains in fairy tales—but the villains themselves beg to differ. In Troll's-Eye View, you'll hear from the Giant's wife ("Jack and the Beanstalk"), Rumpelstiltskin, the oldest of the Twelve Dancing Princesses, and many more. A stellar lineup of authors, including Garth Nix, Jane Yolen, and Nancy Farmer, makes sure that these old stories do new tricks!
A collection of familiar fairy tales with an unusual twist: these stories are told from the point of view of the villains! As with any collection of short stories and poems, some are better than others, some stand out, some are less than stellar, but overall, it is a solid collection. The stories consist of:
"Wizard's Apprentice" by Delia Sherman
"An Unwelcome Guest" by Garth Nix
"Faery Tales" by Wendy Froud
"Rags and Riches" by Nina Kiriki Hoffman
"Up the Down Beanstalk: A W Remembers" by Peter S. Beagle
"The Shoes That Were Danced to Pieces" by Ellen Kushner
"Puss in Boots, the Sequel" by Joseph Stanton
"The Boy Who Cried Wolf" by Holly Black
"Troll" by Jane Yolen
"Castle Othello" by Nancy Farmer
"`Skin" by Michael Cadnum
"A Delicate Architecture" by Catherynne M. Valente
"Molly" by Midori Snyder
"Observing the Formalities" by Neil Gaiman
"The Cinderella Game" by Kelly Link
I could go into specifics with each story, but I think I'll pass on that. These are written by some of the finest fantasy authors around today, and even though I may not have enjoyed some of these tales as much as others in the collection, they are all still well written and worth reading. I will say, though, that my favorite was "A Delicate Architecture" by Catherynne M. Valente. This story, telling the history of the witch from
Hansel & Gretel
was so thought provoking and carried such a sense of melancholy that I couldn't help but understand why the witch became the way she is. It's a hauntingly beautiful story.
Recommended.