#86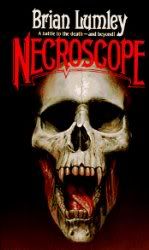 Title
:
Necroscope
Series
:
Necroscope
, Book 1
Author
: Brian Lumley
Copyright
: 1986
Pages
: 505
ISBN
: 9780812521375
Publisher
:
Tor
Author Website
:
www.brianlumley.com
Twitter
: @torbooks
Format
: Mass Market Paperback
Rating
: 5/5 stars
Finished
: 10-17-10
Challenge
: 100 Books 10, 1010 Challenge (Fiction category), Creepy Reading 10
From Amazon:
Dead men tell no tales.

Except to Harry Keogh, Necroscope. And what they tell him is horrifying.

In the Balkan mountains of Rumania, a terrible evil is growing. Long buried in hallowed ground, bound by earth and silver, the master vampire schemes and plots. Trapped in unlife, neither dead nor living, Thibor Ferenczy hungers for freedom and revenge.

The vampire's human tool is Boris Dragosani, part of a super-secret Soviet spy agency. Dragosani is an avid pupil, eager to plumb the depthless evil of the vampire's mind. Ferenczy teaches Dragosani the awful skills of the necromancer, gives him the ability to rip secrets from the mind and bodies of the dead.

Dragosani works not for Ferenczy's freedom but world domination. He will rule the world with knowledge raped from the dead.

His only opponent: Harry Koegh, champion of the dead and the living.

To protect Harry, the dead will do anything--even rise from their graves!
This is a re-re-read for me. I've read
Necroscope
a couple of times over now, and I always find it an immensely entertaining book. Lumley's details in the book are so fine, it's hard not to find yourself entirely immersed in the story. It's hard to imagine how much Lumley packs into this book: cold war confrontations between England and Russia; ESPionage involving psychics of varying levels; vampires; time travel; teleportation; zombies (of a sort); political intrigue; family secrets. Of course, you have to like horror novels as well, because
Necroscope
definitely is not for the faint-of-heart reader.
The plot of the book is your basic good vs evil, which eventually comes to a head with the confrontation between Harry Keogh, Necroscope, and Boris Dragosani, Necromancer. The differences between these two characters really creates the tension in the book. We follow the concurrent running stories of Harry Keogh growing up and Boris Dragosani as a young man, as they both come into their own with their powers. Dragosani, the necromancer, steals secrets from the dead by defiling their bodies in the most gruesome manner, while Harry Keogh, the necroscope, simply speaks to the dead, and befriends them. In Lumley's world, the dead simply carry on as a mind/conscious after death. The genius' of the world continue thinking their amazing thoughts, creating and composing and building, all in their mind but entirely alone. That is, until Harry comes along and discovers his ability to actually speak to the dead, and they are eternally grateful for this fact. So grateful, in fact, that they won't necessarily lay still in their graves when Harry's life is in danger.
As if Dragosani isn't dangerous enough, he also discovers (or is discovered by) Thibor Ferenczy, an ancient vampire, or wamphyr. In Lumley's world, the vampires are actually parasitic creatures who bond with humans and can reproduce once in their lifetime. Ferenczy teaches Dragosani the necromancer technique and eventually bestows on him the "gift" of becoming a wamphyri.
In all honesty, the book is a little slow to start off. There is so much back story to all the characters involved, that Lumley has to explain quite a bit before the story really begins to pick up, but once that happens, hold on! It's a roller coaster ride of a book, right up to the very last page. Lumley has created some very memorable characters in his cast, and his use of time travel and teleportation are extremely clever. I can't give details as that will be too spoilerific, but he does handle the time travel very well (after the fact, it has left me in mind of Tim Powers' use of time travel in
The Anubis Gates
). If you are a fan of action packed stories, and don't mind a little blood and gore on the way,
Necroscope
would definitely be for you. However, if you're a little bit on the squeamish side, I'd highly recommend avoiding
Necroscope
at all costs!