#87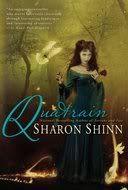 Title
: "Flight" from
Quatrain
Series
:
Samaria
Author
: Sharon Shinn
Copyright
: 2010
Pages
: 84
ISBN
: 9780441018475
Publisher
:
Ace Books
Author Website
:
sharonshinn.net
Twitter
: @AceRocBooks
Format
: Mass Market Paperback
Rating
: 3.5/5 stars
Finished
: 10-16-10
Challenge
: 100 Books 10, 1010 Challenge (Fantasy category)
From Amazon:
Sharon Shinn's Twelve Houses books have fascinated readers and critics alike with their irresistible blend of fantasy, romance, and adventure. Now in Quatrain, she weaves compelling stories in four of the worlds that readers love in "Flight", "Blood," "Gold," and "Flame."
So, this past weekend I found I had some time to kill in a Borders in Chicago, so I decided to pick up
Quatrain
by Sharon Shinn and read the Samaria novella.
Quatrain
consists of four novellas, each taking place in one of Shinn's worlds. I am a hug fan of the Samaria series, so was anxious to read this particular tale, but I didn't want to have to purchase the whole book for this one story (honestly, I haven't read any other of Shinn's series, so the other stories in this particular volume didn't really interest me), so I grabbed it off the shelf and bought a coffee and found a comfy corner to settle myself into for an hour or two of reading.
The story in "Flight" deals directly with one of the previous Samaria books, but unfortunately it has been too long since I read any of the series for me to remember which book this story tied directly to. Needless to say, I still enjoyed the story as it thoroughly transported me back to the world of Samaria, a world populated by mortals and angels, overseen by the Jovah-appointed Archangel; a world filled with music and emotion.
Spoilerific Pause
This story deals with Salome who is trying to protect her niece from the Archangel Raphael, who has had a dark past with Salome. This is a quick tale, and one that allows the characters to have a nice resolution to the immediate story; Salome discovers that the unrequited love she has longed for most of her life actually returns her feelings, Raphael's excesses as Archangel may be exposed, and Salome's niece comes to her senses.
I don't know that this is a necessary read in the world of Samaria, but if you are looking for a nice return to Samaria, like me, because it's been too long of a break, this is a nice taste of that world.