#89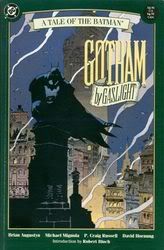 Title
:
Batman: Gotham by Gaslight
Authors
: Brian Augustyn, illustrated by Mike Mignola
Copyright
: 1989
Pages
: 112
Publisher
:
DC Comics
Author Website
:
www.artofmikemignola.com
Format
: Paperback
Rating
: 4/5 stars
Finished
: 10-27-10
Challenge
: 100 Books 10, 1010 Challenge (Graphic novel category)
Awards
:
Gotham by Gaslight
is a unique retelling of the Batman origin. This book was actually the starting point for DC's later
Elseworlds
series due to it's popularity. The
Elseworlds
series took their characters and reset them in time periods or circumstances different from their established histories and told one shot stories around these new ideas. The other interesting bit about this new (old) Batman story is that it can be considered a Steampunk Batman tale, before Steampunk was as popular as it is today.
Gotham by Gaslight
follows the basic idea of Bruce Wayne/Batman's origin, with Bruce Wayne's family being murdered in front of him as a young boy and him later in life going out into the world to recreate himself into a force of good against evil as Batman. The difference here, however, is that this all takes place in the 1890s and his first adversary is Jack the Ripper. (This isn't spoiling anything. You learn that Jack the Ripper is in this book on the very first page.)
The real star of this book is the art by Mike Mignola. Fans of his
Hellboy
series will appreciate is dark and shadowy graphic sense, which ultimately lends itself perfectly to this tale. I think anybody who is a fan of Batman, or of Steampunk and is at least familiar with the Batman mythos, will find this quick read enjoyable.