#101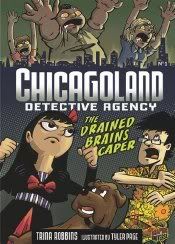 Title
:
Chicagoland Detective Agency, Vol 1: The Drained Brains Caper
Authors
: Trina Robbins, illustrated by Tyler Page
Copyright
: 2010
Pages
: 60
ISBN
: 9780761356356
Publisher
:
Graphic Universe
Author Website
:
www.trinarobbins.com
Artist Website
:
www.stylishvittles.com
Twitter
: @tylerpage, @lernerbooks
Format
: ebook through
NetGalley
Rating
: 3.5/5 stars
Finished
: 12-29-10
Challenge
: 100 Challenge, 1010 Challenge (Graphic novel category)
From Amazon:
Raf knows Megan is trouble from the moment she steps into his mom's pet food store asking for a tarantula. But there's one thing you can count on in Chicagoland: weird things happen several times a day.

Megan is a vegetarian, manga-reading haiku writer. She definitely doesn't fit in at Stepford Academy, her new summer school. The other students are happy to be in class. Too happy. And everyone looks and acts exactly alike. That's weird.

Megan is determined to dig into Stepford's secrets, but soon she's in way too deep. Raf may be the only human being she knows who can help. But with zombified students, very mad scientists, and the school psychiatrist on their trail, they're going to need a whole lot more help.

We did say that Chicagoland is weird...
I love the city of Chicago, so when I was perusing the books available on
NetGalley
the other day and discovered a book titled,
Chicagoland Detective Agency, Vol 1: The Drained Brains Caper
, I thought that I'd give the book a try, even though I knew nothing about it. Well,
Chicagoland Detective Agency, Vol 1: The Drained Brains Caper
is a fun, short, youngish, manga-ish graphic novel that follows the adventures of Raf, Megan and Bradley (a talking dog) as they come together and form the Chicagoland Detective Agency.
Megan is new to the Chicagoland area and in search of a tarantula. She happens into Raf's mother's pet food store, hoping maybe to find a tarantula (or maybe just a new friend) and an unlikely friendship forms between Raf and Megan. Megan is sent to a summer school called the Stepford Preparatory Academy, where all the teachers and students are mysteriously happy and content with life (I know, I know... I didn't say that the book was challenging...) and where Megan certainly doesn't fit in. When Megan is forced to see the school appointed psychiatrist, she discovers the secret behind the perfect students and faculty, and only Raf and Bradley (who they rescue along the way) can save Megan.
This is not a particularly challenging book in the slightest, but I think for the age group that it's geared at (Amazon says 9-12, but I'd be willing to bet that a slightly younger audience would still appreciate this book), it would be a perfect book for kids. The writing is fun and witty and the art is engaging and stylish. If you've got a younger one that is interested in reading and likes manga or graphic novels, I don't think you could go wrong with this selection.