#93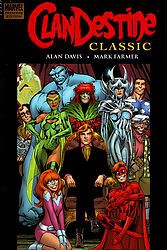 Title
:
ClanDestine Classic
Author(s)
: Alan Davis & Mark Farmer
Copyright
: 1995 (2008)
Pages
: 312
ISBN
: 9780785127420
Publisher
:
Marvel
Author Website
:
www.alandavis-comicart.com
Twitter
: @marvel
Format
: Hardcover
Rating
: 4/5 stars
Finished
: 11-24-10
Challenge
: 100 Books 10, 1010 Challenge (Graphic novel category)
From Amazon:
For centuries they have lived among us - mysterious, elusive, unknowable... so what are they doing with brightly colored costumes and codenames?! Teenagers Rory and Pandora want to pull Alan Davis's family of extra-normal outsiders into the world of heroes and villains, little knowing that M.O.D.O.K. and A.I.M. are waiting for them! Centuries-old patriarch Adam Destine knows the disastrous duo has a lot to learn about power and responsibility... and we all know who's the web-spinning specialist on that, don't we? Plus Adam and his super-powered scions join the X-Men in a demonic debacle against the sinister Synraith! Also guest-starring Doctor Strange, the Silver Surfer and the Invaders. Collecting ClanDestine #1-8, Marvel Comics Presents #158 and X-Men & ClanDestine #1-2.
The Clan Destine have lived among us for centuries, keeping themselves secret and hidden... that it until the twins Rory and Pandora decide that they should be using their powers to fight crime. Oh yeah, in addition to being centuries old in some cases, the Clan Destine also have superpowers.
I loved this series when it was first released in the mid 90s and I still love it now. It's such a clever take on the typical superhero book, taking it away from just your average group of superheroes trying to do good in the world and adding in the element of family and all that that implies. All the Clan Destine, with the exception of their father, Adam, are brothers and sisters, and just like any family, there are tensions that run high in the family between the siblings. Throw in a handful of other heroes from the Marvel Universe, and you've got a mixture that makes for some great reading.
Alan Davis' writing is perfect and his art is so fluid and emotive. I've been a huge fan of his for years, and he never disappoints with his art. He's one of those artists that I would buy something that he drew whether or not I know anything about the story.
So, if you're looking for a superhero book that's not quite your typical superhero book, give this a try. You'll find plenty of super-powered adventures, don't be mistaken, but you'll also find a clever, funny and witty take on a family trying to find their place amongst themselves in a world that is now as new to them as they are to it.