#95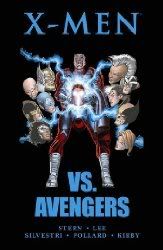 Title
:
X-Men vs Avengers
Series
:
X-Men
Authors
: Roger Stern, illustrated by Marc Silvestri
Copyright
: 1987 (2010)
Pages
: 136
ISBN
: 9780785138099
Publisher
:
Marvel
Twitter
: @marvel
Format
: Hardcover
Rating
: 3/5 stars
Finished
: 11-27-10
Challenge
: 100 Books 10, 1010 Challenge (Graphic novel category)
From Amazon:
When Magneto's on trial, he needs all the help he can get - he finds it in the remnants of his former fortress, Asteroid M! The X-Men aren't sure what his scheme is, but they're positive they don't want the Avengers and the Soviet Super-Soldiers to find out first! Multi-team warfare with the eyes of the world on all three! Also featuring the X-Men's fabulous first fight with the Avengers, to keep them from unleashing the legendary Lucifer! Collects X-Men vs. the Avengers #1-4, and Uncanny X-Men #9.
Well, thinking back on this particular series, I remember it coming out about the same time as the
X-Men vs the Fantastic Four
series, but reading them both recently now, this is definitely the better of the two series, even though it still falls short. The premise is that a portion of Magneto's Asteroid M has fallen to Earth, and there is a scramble between Magneto, the X-Men, the Avengers and the Soviet Super-Soldiers to get to the asteroid first, as Magneto believes that there could be valuable equipment there. The X-Men are in pursuit because they don't understand why Magneto wants the equipment so badly, the Avengers are trying to get to him to put him on trial for his crimes against the world, and the Soviet Super-Soldiers want to execute him for his sinking of a Russian sub and subsequent killing of everyone aboard. Magneto, trying to prove his change in motivation against the world, eventually surrenders to the world court, but his ultimate goal may or may not be in the best interest of everyone involved and may or may not be achieving the ultimate goal that he is hoping for.
The story isn't bad, it just seems sort of cheap in some ways. Everyone seems intent on their individual team goals, yet the X-Men seem most out of character as they are simply backing Magneto because he is a mutant, and for no other reason. Instead of looking out for the betterment of the world as a whole like they normally would, they simply seem intent on proving Magneto innocent, whether or not he really is, just to prove a point that Magneto is being hunted just because he is a mutant, regardless of the crimes that he has committed in his past. Again, this is another case of something reading much better to me in my younger days than it does now. Oh well, it wasn't a
bad
story, just not all that good. At least the art was decent with some early Marc Silvestri takes on the X-Men!