#96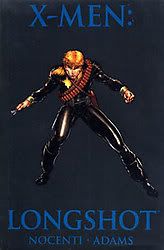 Title
:
X-Men: Longshot
Author(s)
: Ann Nocenti, illustrated by Art Adams & Whilce Portacio
Copyright
: 1986 (2008)
Pages
: 208
ISBN
: 9780785130918
Publisher
:
Marvel
Twitter
: @marvel
Format
: Hardcover
Rating
: 4/5 stars
Finished
: 11-29-10
Challenge
: 100 Books 10, 1010 Challenge (Graphic novel category)
From Amazon:
Leather, looks, and luck - put 'em all together, they spell Longshot! The non-mutant X-Man's first trip to Earth is reprinted here in its entirety, introducing the scintillating Spiral and the murky madness that is Mojo, menaces that threaten the Marvel Universe to this day! Guest-starring Spider-Man, She-Hulk and Doctor Strange! Collects Longshot #1-6.
So, the writing might be a little dated and choppy, and the art might be a little rough around the edges in some places, but Ann Nocenti and Art Adams'
Longshot
may still be one of my favorite stories from the 80s. We are introduced to Longshot, Spiral, Mojo, Arize and the rest of the Mojoverse characters, setting the groundwork for some of the quirkier and more fun X-Men adventures down the road. As far as I know, this was the first series for both Nocenti as writer and Adams as artist, and you can clearly see them both flexing their respective creative muscles and can clearly see the beginnings of Art Adams' signature style coming through his work already.
This story picks up with Longshot arriving in our world from a mysterious alternate dimension, with no clear memory of who or what he is. This is Longshot long before him joining the X-Men, when he is still desperately trying to piece together the puzzle of his past. During these early adventures, Longshot runs into Spider-Man, She-Hulk and Dr. Strange, learning what it means to be a hero in this world.
This book probably wouldn't be for everyone, even some X-Men fans, but for a glimpse into the early development of a character, it's a fun book.