#97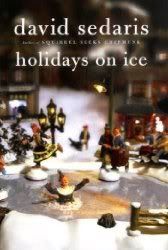 Title
:
Holidays on Ice
Author
: David Sedaris
Copyright
: 2010
Pages
: 176
ISBN
: 9780316078917
Publisher
:
Back Bay Books
Author Website
:
www.barclayagency.com/sedaris.html
Format
: Paperback
Rating
: 3/5 stars
Finished
: 12-1-10
Challenge
: 100 Books 10, 1010 Challenge (Memoir)
From Amazon:
David Sedaris's beloved holiday collection is new again with six more pieces, including a never before published story. Along with such favorites as the diaries of a Macy's elf and the annals of two very competitive families, are Sedaris's tales of tardy trick-or-treaters ("Us and Them"); the difficulties of explaining the Easter Bunny to the French ("Jesus Shaves"); what to do when you've been locked out in a snowstorm ("Let It Snow"); the puzzling Christmas traditions of other nations ("Six to Eight Black Men"); what Halloween at the medical examiner's looks like ("The Monster Mash"); and a barnyard secret Santa scheme gone awry ("Cow and Turkey").

No matter what your favorite holiday, you won't want to miss celebrating it with the author who has been called "one of the funniest writers alive" (Economist).
Oh, David Sedaris, I know I'm supposed to like your writing. In fact, every single person I know who loves your writing points out that by all accounts, it's exactly the sort of thing that I'd find funny. And I do. Vaguely.
Let me explain. This is the second time that I've read
Holidays on Ice
. I don't remember being all that impressed with it the first time I read it, but it was so long ago, and people's tastes change over the years, so I thought I'd give it another try. And unfortunately, I still didn't find all of it that funny. The first story, about Secaris's time as a Macy's holiday elf, was good. I truly think this is where Sedaris shines, talking about his personal experiences. He's one of those people that always seems to be in the right place at the right time to witness the most bizarre in the people in the people and situations around him.
It's when he starts in on his fictional stories that he seems to take things just one step too far. The stories always seem to start out funny, but then they just don't stop. He tries to push the envelope of funny and ridiculous every time, and I find myself just skimming through the second half of the story, because it just seems to be the same thing, repeated over and over and over.
Don't get me wrong. I can appreciate the genius that is David Sedaris. I just think that his humor may be one step beyond my comfort zone, and I just have a hard time relating to his style of writing. For his fans, however, I know that this book is a true treasure.
Now, a note on the man himself, David Sedaris. I had the good fortune of being invited to a signing recently, and it turns out that David Sedaris may, in fact, be one of the nicest people that I've met in a long time. He is gracious to each and every person that comes to see him, and takes the time to talk and to actually listen to each person. And he's really hysterical in person. If you ever have a chance to see him, whether you're a fan or not, I'd recommend it. He really makes an effort to make sure that you have a good time.